Ulm
Brose Bamberg's winning streak ends abruptly in Ulm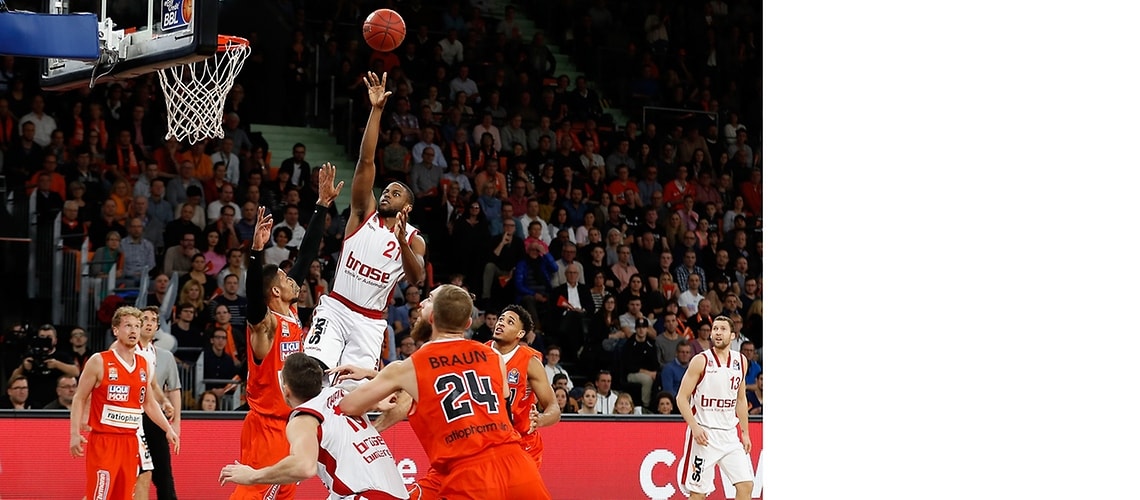 Ulm, 12-11-2016
The winning run of German champions Brose Bamberg has come to an end: The team of Head Coach Andrea Trinchieri lost on the road to ratiopharm Ulm, its opponents from last season's playoff final, by the surprisingly clear margin of 63:78 – its first defeat since the beginning of April 2016 after 13 wins this season and a run of 26 victories straddling this and the last season. However, Brose Bamberg has played one game more, so undefeated Ulm has not yet moved past the German league leaders in the table.
Trinchieri was without two centers: Elias Harris through a strained thigh muscle and Vladimir Veremeenko as the seventh foreign player. That particularly proved to be a drawback in the course of the game, since ratiopharm Ulm was especially tough and uncompromising below the basket and only let Bamberg snap up four offensive rebounds in the whole encounter. A player like Harris, who can burrow away and fight in that department, was sorely missed. And Tim Ohlbrecht in particular turned on the heat under the German champs' basket: The former Bamberg player managed to chalk up ten points by half-time and ended up as the game's top scorer with 19.
And Bamberg's players? They made a tired impression at times, often reacting one step too slowly and having to resort to tactical fouls in defense. The visitors increasingly tried to score from downtown in offense, but although they carved out open shots from beyond the arc, only three out of 15 attempts found their way through the hoop in the first half – and by the end of the game that figure was still a paltry six out of 30. Ulm opened up a 36:24 gap by midway through the second period, but Trinchieri's team reduced that to 37:43 at half-time thanks to a number of steals in defense and two minutes with a strong performance in offense by Daniel Theis and Darius Miller (12 points each).
Yet Bamberg lacked imagination in offense after the break and the home side pulled 55:41 ahead. At least Bamberg's top scorer Janis Strelnieks (14 points) now stepped up to the plate, draining a three to make it 44:55, and Bamberg managed to cut the deficit to seven (51:58) by the end of the third period, also thanks to the bucket from outside by Lucca Staiger (9 points). Nothing went right for Bamberg at the start of the final quarter: turnovers, missed shots from beyond the arc, offensive fouls and traveling violations – the home side capitalized on all of that to lead 67:53 with six minutes to go. That was too high a hurdle for Bamberg this Sunday, in particular as key players such as Nicolo Melli, who was chosen as MVP for Round 11 of the Euroleague Regular Season last week for his 27 points against Tel Aviv, and Fabien Causeur were simply disappointing and failed to score a single point from the floor.
Andrea Trinchieri commented: "Congratulations to Ulm. It deserved to win because it played magnificently. I knew it had a strong team, so its performance didn't surprise me. We were inundated by Ulm's energy. Somehow we nevertheless managed to stay in the game in the first half, but we got off to such a poor start in the third period that we fell well behind and then also deservedly lost the game."
The German champions now face a momentous game in the Euroleague on Thursday, December 15, when the Turkish team Anadolu Efes comes to the Nürnberger Versicherung Arena. A win means Bamberg can close the gap to a playoff berth to two points. The tip-off is at 8:45 p.m.