Bamberg
Brose Bamberg wins and loses in the space of 45 hours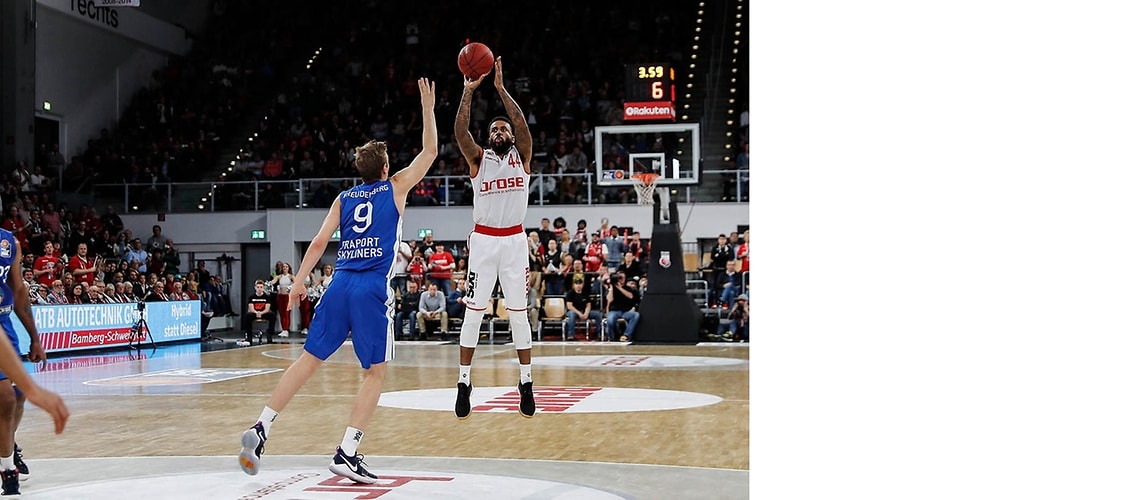 Bamberg, 11-12-2017
One win and one defeat – that is the bottom line from the German champs' weekend. On Friday evening, Brose Bamberg lost to Euroleague champions Fenerbahçe Istanbul by 57:80, then on Sunday evening made amends with a 75:67 victory over Fraport Skyliners to jump from eighth to fifth in the German league.
Bamberg's fans greeted their two former heroes Nicolo Melli and Brad Wanamaker with great applause, after which Bamberg's fan clubs and the 300 Fenerbahçe supporters outdid each other in creating a fantastic atmosphere. Bamberg got off to a strong start with five points through Bryce Taylor, but the Euroleague champs struck back by adding 12 points without reply to surge 7:16 in front. After that, Bamberger stepped up its intensity in defense and closed the gap to 18:21 after points by top scorer Augustine Rubit and Maodo Lo. However, Brad Wanamaker drained his third bucket from beyond the arc to put Bamberg behind by double digits for the first time. Dorell Wright prevented his side from trailing further with seven points before half-time. Head Coach Andrea Trinchieri's team defended more strongly after the break and was able to keep Fenerbahçe down to 11 points. However, the home side was frequently thwarted by Istanbul's strong defending and so was only able to reduce the deficit 46:54. In the opening minutes of the final period, Fenerbahçe exploited every mistake by Bamberg, with the result that the encounter was as good as decided with the score at 48:64 and six minutes remaining.
The German champions were back on court in the German league just 45 hours later. After the home side took a quick 11:5 lead, the visitors fought their way back into the game and were able to throw Bamberg off its stride thanks to strong defending. Augustine Rubit helped his side hold on to a 16:13 lead at the end of the first ten minutes. Bamberg let the game slip from its grasp slightly in the second quarter. Frankfurt was able to score too many easy points and Bamberg hit the mark too rarely. The result was a 4:16 run that left the home side trailing by 20:29. Top scorer Bryce Taylor got Bamberg back into the game with three free throws and a bucket from downtown. After a lay-up by Augustine Rubit, Ali Nikolic drained a three to put his side 33:32 in front, a lead which Maodo Lo secured with free throws to make it 35:34 at the break. Bamberg had its best spell in the third period. First of all, Lo stretched the gap to 40:34 single-handedly, then Bryce Taylor and Lucca Staiger added buckets from outside to give the home side its widest lead. Yet Frankfurt struck back with more physical play in defense to close the deficit to 57:53 at the end of the period. However, old hand Nikos Zisis and Luka Mitrovic, who rebounded strongly, restored the home side's double-digit lead and so secured victory.