Bamberg
Brose Bamberg wins the 17th Upper Franconian derby in a row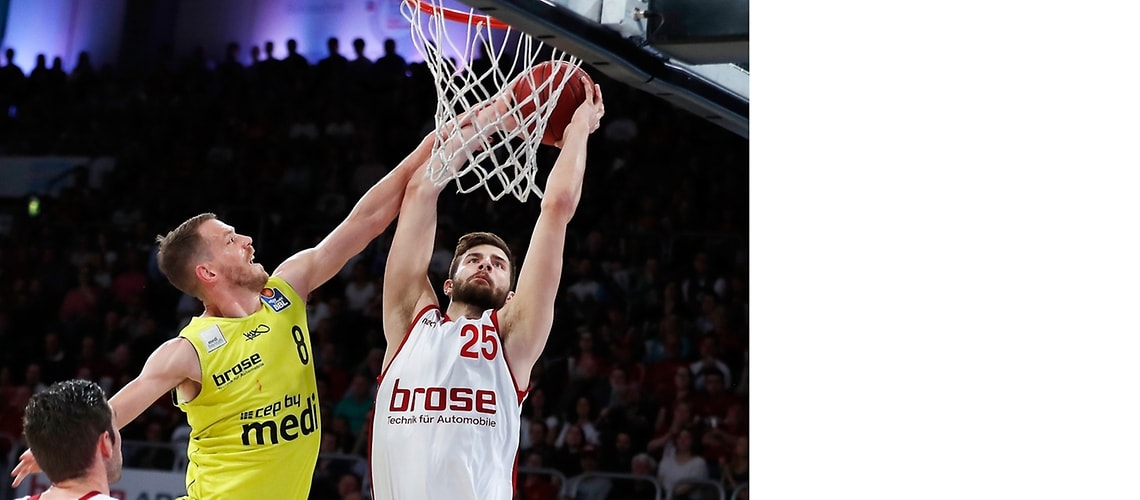 Bamberg, 04-09-2017
Brose Bamberg's winning streak against medi Bayreuth continues: The German champions also won the 17th encounter between the two since Bayreuth regained promotion. FC Bayern had put the pressure on the team of Head Coach Andrea Trinchieri the day before with an unexpectedly high 83:68 win on the road at the previously unbeaten league leaders Ulm, but Bamberg played as if unleashed against the surprise fourth-placed team and coasted to an 83:65 victory.
In the Upper Franconian derby, Trinchieri left out Vladimir Veremeenko, Ali Nikolic and Jerel McNeal, while Lucca Staiger (foot injury) and Elias Harris (knee problems) were also missing. Bayreuth went four points ahead (5:9) in the first five minutes, but then it was only the home side who stepped on the gas: Points by Nikos Zisis and Nicolo Melli, as well as a thunderous slam-dunk by youngster Leon Kratzer (7 points), got Bamberg's fans to their feet, as a run of ten points without reply put the home side six points in front (15:9). By the end of the first period, the lead had grown to double digits for the first time thanks to five points by Janis Strelnieks and a lay-up from the young talent Louis Olinde (28:18). Maodo Lo, who had a strong game and drained all of his six shots in his 12-point haul, and Janis Strelnieks stretched the gap to 33:18, after which Bayreuth was able to benefit from mistakes by the home side and cut the deficit to 40:32. Zisis (12 points) and Strelnieks restored the double-digit lead by half-time (46:34).
After the break, Trinchieri merrily made sweeping changes in his 12-man rotation, but was able to rely on one thing: Bamberg's defense stood incredibly solid and, in particular, had Bayreuth's Kyan Anderson (average of 12.6 points a game) and Joseph Lewis (15.6) under control. The upshot: Lewis managed just 2 points (from free throws) and Anderson drained only one three out of ten shots from the floor. Nicolo Melli (13 points) put Bamberg 19 in front (58:39). Louis Olinde buried a buzzer-beating three to make it 67:50.
Bamberg continued to dominate in the final quarter: Top scorer Janis Strelnieks (17 points) drained his second bucket from downtown and Daniel Theis extended the lead to beyond the 20-point mark with a slam-dunk (75:54), after which the home side played out the game.
Andrea Trinchieri commented: "I'm really satisfied with our defending. We defended decently over the whole 40 minutes. Even when Nate Linhart scored a number of threes, we never lost our patience or aggression. We played with a long rotation and everyone was an important part of the game. We kept Bayreuth to a two-point percentage of 35 and a three-point percentage of 32, so we did a really good job. This is now a new chapter for us after the Euroleague. We're preparing for the playoffs."
Despite the fact that the Euroleague season is over for the reigning German champions and cup winners, they face another week with two games, this time both in the domestic league: on Thursday in Tübingen (tip-off: 8:30 p.m.) and in the Brose Arena against Alba Berlin on Sunday (tip-off: 6 p.m.).