Ulm
Brose Baskets capture comfortable win in Ulm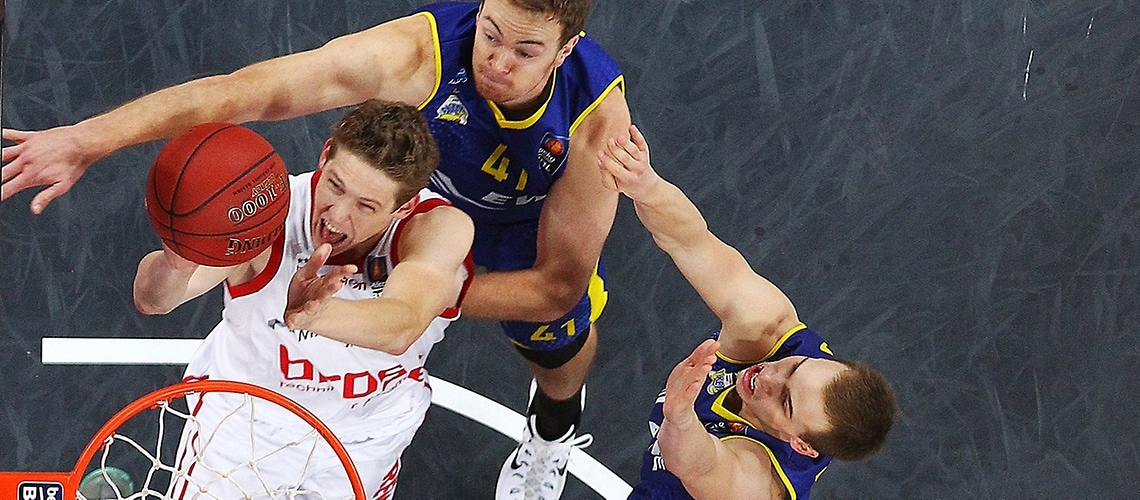 Ulm, 11-01-2015
It was not until well into the second period that Brose Baskets finally took control of their game on the road at ratiopharm Ulm. In particular in the second half, the German champions played the highly rated team from Swabia off the court to capture a 93:83 away victory. Youngster Patrick Heckmann had an especially strong game and finished top scorer with a personal best haul of 18 points.
In front of its fans in the ratiopharm Arena, the home side naturally wanted to exploit the fact that the team of Head Coach Andrea Trinchieri had one day less to prepare after its Euroleague game in Moscow. Andrea Trinchieri voiced his fear before the game that Ulm would unleash "a deluge of threes." And that is precisely what happened in the first period: Ulm drained six out of seven shots from beyond the arc, kept the opening spell evenly poised (27:29) and even took a 36:34 lead midway through the second quarter. Whereas Bamberg's defense exhibited gaps here and there during this phase, at least its offense was impressive: in particular youngster Patrick Heckmann often received the ball and stormed through Ulm's ranks to make a lay-up or buried his wide-open three-pointers. The 23-year-old bagged fourteen of his 18 points in the first half, made all his shots from the floor and was mainly responsible for Brose Baskets taking a 49:44 lead in at half-time.
After the break, Trinchieri's team tightened up its defense considerably, did not let Ulm score any more wide-open threes and produced a run of 8 without reply to stretch its lead to double digits (57:44). Bamberg's even caliber in offense was especially impressive: 27 passes resulted directly in buckets and six Bamberg players got into double digits. Ulm was never able to mark out one or two scorers from the other side because another Bamberg player was always there to take matters into his hand in attack. Apart from Heckmann, Darius Miller (15 points), Nicolo Melli (14), Janis Strelnieks (12), Daniel Theis (11) and Gabriel Olaseni (10) got on the score sheet and so the experienced playmakers Brad Wanamaker and Nikos Zisis were able to hold back, concentrate on building moves and produce a total of 13 assists. Since Bamberg also won the rebounding duel by 39:23, the German champs opened up a clear margin that at one stage was even as wide as 19 points (81:62). Brose Baskets then let the game peter out in the final minutes, enabling Ulm to put a better complexion on the final score.
Andrea Trinchieri commented: "It's always difficult to recover mentally from a Euroleague game in a short time. We made a lot of mistakes in the first half, but then made the right adjustments and so won the game. Our first half wasn't especially good, but we didn't fall way behind and prevented Ulm from pulling away. In the second half we moved the ball far better, got it to the hands of the right players and also played better in defense."
Brose Baskets now face an important home game in the Brose Arena against Maccabi Tel Aviv in the Euroleague on Thursday, November 5 (tip off: 7 p.m.). Both teams have one win and two defeats to their name so far.