Bamberg
Brose Baskets go top of the table with a 100:87 win over FC Bayern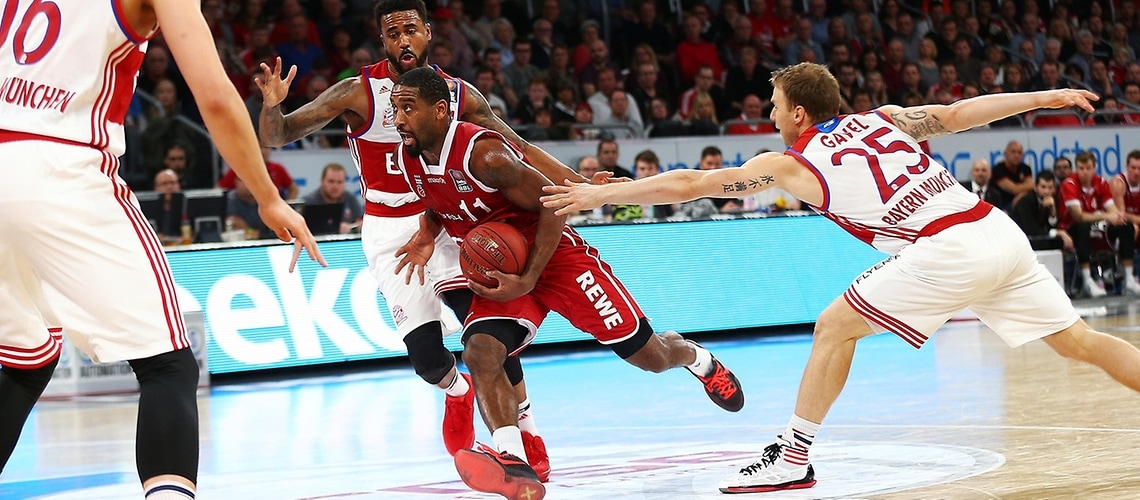 Bamberg, 12-06-2015
It was the first meeting between the two teams since the final in June 2015 – and the German champions put on an emphatic display at home in the Brose Arena with a 100:87 win over last season's runners-up FC Bayern Munich. With their first hundred-point game of the season, Brose Baskets have also moved top of the German Basketball League for the first time this season. However, it was not until the final three minutes that the home side was only able to secure victory in a game that would have graced the top European club competition in front of 6,800 enthusiastic fans.
Rarely in the history of the German Basketball League has there been a regular season game between the champions and runners-up that had the character and tough defending of a playoff so early in the season, yet also produced such magnificent shooting percentages. Despite or perhaps because of their great rivalry, the two teams did not give each other an inch of space throughout the forty minutes, fought tenaciously for every ball and drained an above-average ratio of their shots, especially from beyond the arc. If a three-point field goal percentage of 40 is considered strong, Bayern raised the bar higher with 13 out of 23 attempts. However, the German champions Brose Baskets produced a true shower of threes: a shooting percentage of 68 or 15 three-pointers out of just 22 attempts. Captain Brad Wanamaker (25 points) made all his four attempts, two of them in the key final period. The outstanding top scorer Darius Miller (27 points) made the Bamberg fans erupt with joy by burying five out of six shots from outside. For 32 minutes, the crowd saw a top-class, evenly poised game, in which FC Bayern got off to the better start and went 13:6 ahead. However, Brose Baskets struck back through Nicolo Melli to take a 21:20 lead after the first quarter. The lead changed hands twelve times up to half-time (46:43 for FC Bayern), but then top scorer Darius Miller took matters into his hands in the third period, adding two ripping slam-dunks and two threes in a run of twelve successive points. With a 71:67 lead after the third period, it looked like Brose Baskets had the momentum on their side. Yet last season's runners-up struck back clinically – buckets from beyond the arc by Anton Gavel, Dusko Savanovic and Bryce Taylor turned the game on its head in the space of 80 seconds, as a 11:2 run put Bayern 78:73 ahead. And on the next attack, Bamberg had incredible luck that Taylor was not able to intercept the ball after an inaccurate pass. In the final second left for the attack, the ball came to Brad Wanamaker, who shot from outside and buried the ball to make it just 76:78. Fired on vociferously by the Freak City fans, Bamberg was then able to prevent Bayern scoring for a whole four minutes, with Daniel Theis (11 points) picking up important defensive rebounds off the backboard. And everything went like clockwork in offense: Darius Miller passed to Janis Strelnieks, who drained the three (79:78), Janis Strelnieks set up Darius Miller for another (82:78), then Brad Wanamaker played a strong pass to Daniel Theis for a slam-dunk that dealt Bayern a hard blow (84:78). Wanamaker added a lay-up, three and half-distance shot to make it 91:85. Bayern then lost possession because it wasn't able to get a shot in against strong Bamberg defending – Wanamaker went down the other end and passed to Nicolo Melli for the next three and the decider with 80 seconds to go (94:85).
Brose Baskets' Head Coach Andrea Trinchieri commented: "The game today was one of the best I've seen this season. It was an incredible advertisement for German basketball. Bayern has adapted to our basketball. They played small ball and we had to get used to that. I have to praise my players. They wanted to take important shots today and made them. Bayern defended the zone very well and so we had to find a way to score from the three-point line. I wish Bayern a lot of luck in the Euroleague, because it would be very important for both German teams to reach the Top 16."
On Thursday, December 10, 2015, Brose Baskets can cause a sensation by beating Maccabi Tel Aviv on the road and so dumping the six-times European champions out of the Euroleague. The Israeli club has a theoretical chance of joining Bamberg in the Top 16 only if it wins the game, which tips off at 8:15 p.m.