Bamberg
Brose Baskets go top of the table with a comfortable win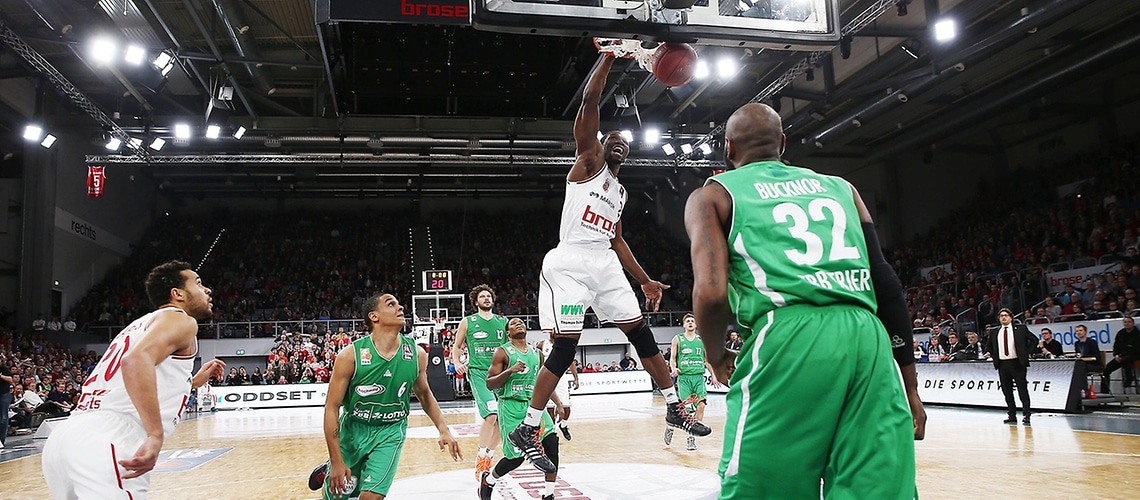 Bamberg, 02-15-2015
After plumbing the depths in the 63:87 debacle in the Eurocup on the road against FC Bayern Munich, Brose Baskets scaled the heights just four days later, at least in the Beko German Basketball League. The team of Head Coach Andrea Trinchieri crushed TBB Trier 84:44 in the Brose Arena and, due to the fact that Alba Berlin slipped up, captured top spot in the league on this, the 22nd matchday.
Andrea Trinchieri produced a surprise in the starting five: youngster Andi Obst was given a runout from the beginning. It was above all center Trevor Mbakwe who made his mark on the game in the opening minutes. The American scored six of the first eight points, four of them with spectacular slam-dunks, to help put his side 8:0 in front. The home side dominated at will below the baskets and Elias Harris (11 points) added four lay-ups and eight points to enable Bamberg to take a 16:11 lead after the first period.
The home side then sealed the game with a fantastic second quarter. Trinchieri's team successively stretched its lead, in particular thanks to the three buckets from beyond the arc by Ryan Thompson (9 points), whose third three made it 40:17. Brad Wanamaker (8 points) extended the gap to 44:17 from the foul line, after which Trier scored five points in a row to reduce the deficit to 46:22 at half time.
The run of play did not change in the second half: Bamberg continuously extended its lead against an innocuous Trier side and also showed fine team basketball. The home side produced 21 direct assists, whereas Trier managed just two. Top scorer Trevor Mbakwe increased his personal haul to 18 and also snapped up 12 rebounds. Andrea Trinchieri then gave players who do not often get a chance to show what they can do time on court in the second half: Johannes Thiemann, Daniel Schmidt (5 points) and old hand Dalibor Bagaric, who duped Trier's defense with three great feints and added six points. Youngster Andi Obst thanked his head coach for his confidence in him and for giving him 18 minutes on court with six points and two assists. After leading 62:34 at the end of the third period, Bamberg eventually strolled to an 84:44 home victory.
Andrea Trinchieri commented: "We played well as a team and displayed solid defending. It was a good game for us and everyone did his bit. And that'll be an important victory for us this season if a similar game ensues in Ulm on Wednesday. Sometimes we're like cyclists in the Tour de France – we lose the ability to concentrate on our tasks when we're tired. Now we have to stay focused, keep our head down and keep on slaving away. Being top of the table is motivation for us. Now we need to extend our winning streak. We can see a great chance to leave Bayern behind us, although it plays inspiring basketball, like Alba does too. We've achieved a goal, but there's still a long way to go. We'll takes things game by game."
Brose Baskets now face a do-or-die game on Wednesday evening, when they travel to ratiopharm Ulm for a game in which the winner qualifies for the Top Four in the German Cup in Oldenburg on April 11 and 12. The tip-off is at 8 p.m.