Bonn
Brose Baskets romp to comfortable win on the road with a strong 20:6 in the final quarter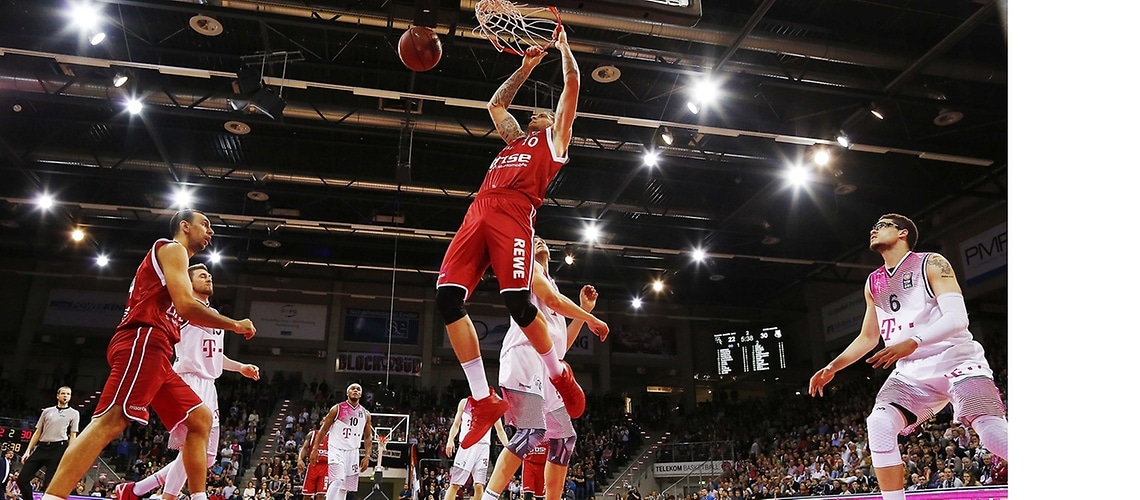 Bonn , 04-03-2016
Brose Baskets are making progress in leaps and bounds in their quest to finish top of the German league at the end of the regular season. The convincing 85:65 victory at Telekom Baskets Bonn means the team of Head Coach Andrea Trinchieri now has a lead of four wins over the two teams tied in second, FC Bayern and EWE Baskets Oldenburg – and four of its remaining six games are at home. However, Bamberg must still travel to FC Bayern and EWE Baskets for the other two.
The consistency and fight Brose Baskets display week after week in the German league – after tough and disappointing games in the Euroleague, such as was the case in Barcelona five days ago – and their ability to keep their domestic opponents in check with seeming ease are remarkable. Bamberg's away victory in the Rhineland at Telekom Baskets Bonn was its 19th straight win in the German competition – meaning it might even be able to break the old record mark of 24 successive victories in a regular season set by Alba Berlin in 1996/97 and 2000/01.
Brose Baskets traveled to Bonn without old-hand Nikos Zisis – the Greek player had flu and so flew directly back to Bamberg after the Barcelona trip. Bonn got off to a flourishing start and wanted to capitalize on Brose Baskets' strenuous travels, but only managed to do so in the opening eight minutes. The home side was briefly 16:12 in front by then, but four points each from Lucca Staiger and Elias Harris gave Bamberg a lead at the end of quarter that it would not relinquish. Thanks to a 18:4 run straddling the periods, Bamberg opened up a double-digit lead (30:20). In particular top scorer Lucca Staiger impressed with a perfect shooting percentage in the first half, which ended 45:36. The 26-year-old drained four out of four shots from beyond the arc and a lay-up on his way to making 16 of his 19 points before half-time.
After the break, the visitors stretched the gap to 52:40, but then did not defend with the necessary resolve up to the end of the period and so allowed Bonn to reduce the deficit to 65:59. When the German champs showed greater focus in defense, the opposing side from the Rhineland lost its incisiveness in offense. Bonn managed a meager six points in the final quarter. Apart from Staiger, Daniel Theis (15 points), Nicolo Melli (14), Brad Wanamaker (11) and Janis Strelnieks (10) got into double figures.
Andrea Trinchieri commented: "We played like we ought to in an encounter like this. After our Euroleague game in Barcelona, our guys with the fresher legs gave us a lot of energy and created the basis for a strong final period. In particular our German guard played a big hand in the win by scoring 45 points."
Brose Baskets now face their final game in Group F of the Euroleague Top 16 on Thursday, April 7, when second-placed Laboral Kuxta Vitoria are the visitors (tip-off: 8 p.m.). The Spanish club defeated Trinchieri's team by 90:64 in their earlier game, but Bamberg aims to exact revenge in front of its home crowd and so keep alive its small chance of qualifying for the playoffs. That means a win over Laboral Kuxta is a must. However, it also needs the help of three other teams: Olympiacos Piraeus (against CSKA Moscow) and bottom-of-the-table Zalgiris Kaunas (against FC Barcelona) must win at home, while Real Madrid must not win at home against Khimki Moscow. Only then will Brose Baskets scrape into fourth place.