Bamberg
Brose Baskets secure commanding win against fourth-placed Bonn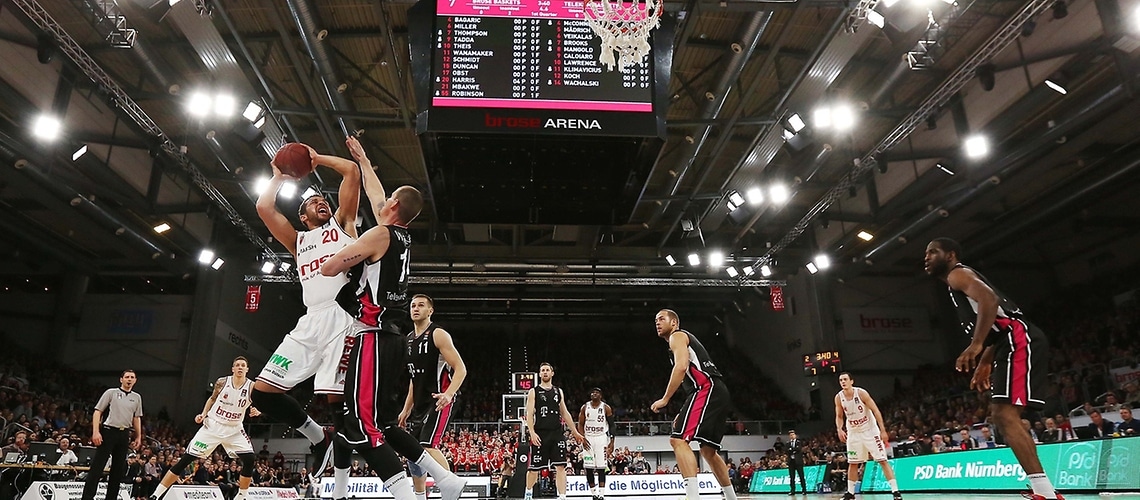 Bamberg, 03-14-2015
What a great weekend for Brose Baskets' fans: First the third-placed pursuer FC Bayern Munch suffered a surprise home defeat at the hands of Braunschweig, then Brose Baskets beat fourth-placed Telekom Baskets Bonn at home in more than commanding fashion by 89:68. The team of Head Coach Andrea Trinchieri still leads the table, one win ahead of Alba Berlin in second and even two more than FC Bayern in third. All three still have to play against each other with eight matchdays remaining in the regular season.
For the encounter against Bonn, Andrea Trinchieri rested playmaker Janis Strelnieks, who had returned from the game against Krasnodar with calf problems. Josh Duncan was back on the bench after his knee arthroscopy, but was not brought on. Instead, new signing Darius Miller made his first appearance in front of 6,800 home fans – and had a great debut. After an initial period where the game did not flow, the visitors led 9:8 and Trinchieri brought on Miller. The ex-NBA player promptly stole the ball from Bonn's two playmakers Steve Wachalski and Mickey McConnell within the space of two minutes, made the points himself on one occasion to put his side 14:9 ahead and then set up Daniel Theis the second time (18:9). Brose Baskets were 20:11 in front at the end of the first period, a lead they built above all thanks to Trevor Mbakwe with five straight points, as well as Daniel Theis and Ryan Thompson with spectacular slam-dunks to make it 33:21. However, Bonn stayed in touch with three successful attacks (33:27). Brad Wanamaker secured a 38:30 half-time lead for Brose Baskets.
After the break, the home side produced a sparkling display of offensive basketball against a Bonn side whose chances were now zero. Top scorer Ryan Thompson (19 points), Brad Wanamaker (11) and Darius Miller (10) drained their threes, while Daniel Theis (13) confirmed his great form with two buckets from beyond the arc and a slam-dunk in succession. Bamberg outclassed the visitors by 25:14 in the third quarter to take a comfortable 63:44 lead into the final period. Center Trevor Mbakwe in particular stepped up a further gear in the final quarter and slammed three dunks through Bonn's hoop within a short space of time to crown his strong performance with 17 points and ten rebounds. The win against Bonn gave Brose Baskets their 15th straight victory, surpassing the season best mark of Alba Berlin (14 wins); they also made sure of qualifying for the playoffs.
Andrea Trinchieri commented: "We've a hard week behind us. The team got off to a somewhat slow start because of the strain of the round trip to Russia, but then we nevertheless turned in a solid performance. We moved the ball around and rebounded well. We have to keep playing like that and stretch our winning streak."
After the many weeks where they also had games in midweek as a result of the Eurocup, Brose Baskets now have eight days to prepare for the next game in the German league: Mitteldeutscher BC visits the Brose Arena on Sunday, March 22, 2015, in an encounter that tips off at 3 p.m. Trinchieri's team won the game earlier in the season in Weißenfels by 84:71.