Brose Baskets start the last 32 with a win on the road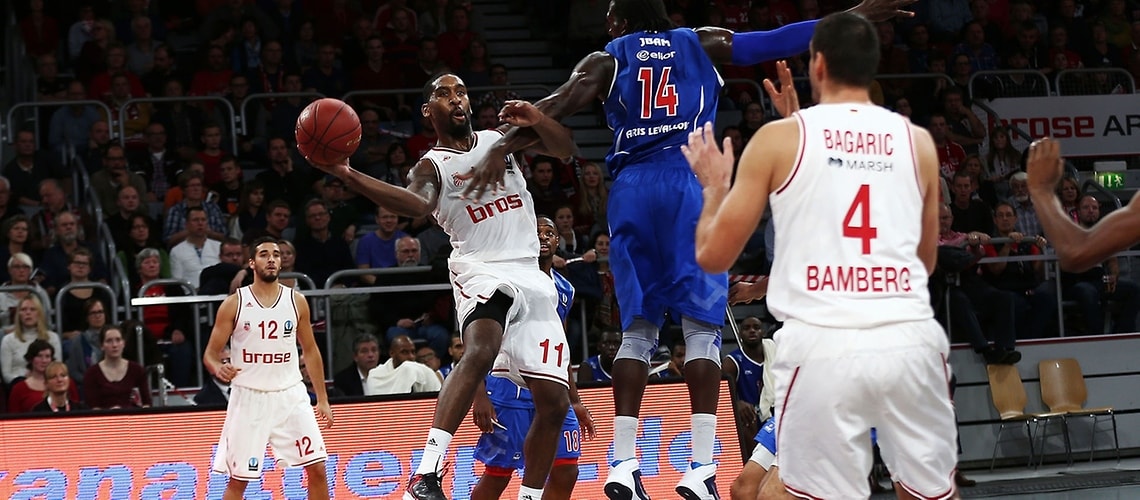 01-07-2015
Brose Baskets have embarked on the second round of the Eurocup with an important away victory: in front of a crowd of 2,500 – including a handful of Brose Baskets fans – the team of Head Coach Andrea Trinchieri defeated Union Olimpija Ljubljana 65:71. However, Trinchieri was not happy at the way his team won: after producing a top-class display and leading 35:60 at the beginning of the fourth period, Bamberg suffered a severe slump in form.
For three periods Brose Baskets turned in a gigantic performance in defense, like in the last three German league games against Berlin, Bayreuth and Munich. In its Eurocup campaign before the encounter, the Slovenian side from Ljubljana had won six games and lost four, scoring an average of 80 points – but after 31 minutes it had bagged a meager 35 against Bamberg. Union Olimpija was hardly given a chance to take free shots and in three quarters drained only one of seventeen well-defended shots from outside. During that time, Bamberg built a comfortable lead. Ryan Thompson got off to a very strong start and immediately contributed two buckets from beyond the arc and a lay-up to help put his side 2:10 ahead. After just four minutes, Bamberg had built a double-digit lead (4:17) and at the start of the second period top scorer Ryan Thompson (15 points) buried his second three to make it 15:29. Since Thompson committed his third foul shortly afterwards, Trinchieri recalled him to the bench, which the home side exploited to close the gap to 24:32. However, Karsten Tadda scored from outside and Bamberg took a double-digit lead in with it at half-time (28:39).
After the break, Brose Baskets were even a touch better in defense, with Ljubljana managing to add just seven points in the third quarter. Moreover, Brad Wanamaker (13 points) and Janis Strelnieks (12) played cat and mouse with the Slovenian side's defense, while Elias Harris produced a strong display and increased the gap to 35:58 at the end of the period. On the first attack of the final quarter, Harris (13 points) stretched the lead to 35:60 and the game looked like it was over. Yet lulled into a false sense of security that victory was certain, careless mistakes crept into Bamberg's play: in offense, where it conceded ten turnovers in the final ten minutes, and in defense in the shape of positional errors and mistakes in coverage. The home side now capitalized uncompromisingly to string together a 16:1 run and close the deficit to 51:61, after which Janis Strelnieks and Ryan Thompson were again able to increase the margin to 51:65. In the hectic and scrappy final spell, in which the home side often argued with the referees and the spectators then also threw objects onto the court, Elias Harris and Janis Strelnieks secured the important victory with lay-ups.
Andrea Trinchieri commented: "We had the chance in this game to grow as a team and become smarter, but we wasted it. We played aggressive, solid and clever, but not magnificent basketball. We produced a great game on Sunday and I'm aware that we can't turn in a performance like that every time. But we conceded 30 points in the final period and that's not good. We've won an important away game, but I'm not happy at how we did so. We should have been smarter and mentally more stable."
There are no games in the Beko German Basketball League at the weekend because of the BBL All-star Days in Ulm. Brose Baskets now face German champions FC Bayern Munich in Eurocup Group K at home in the Brose Arena next Wednesday, January 14, 2015. The all-German encounter in this international competition will be broadcast live on Sport1 and telekombasketball.de. The tip-off is at 8:30 p.m.