Bamberg
Brose Baskets trounce Bayern to storm into the final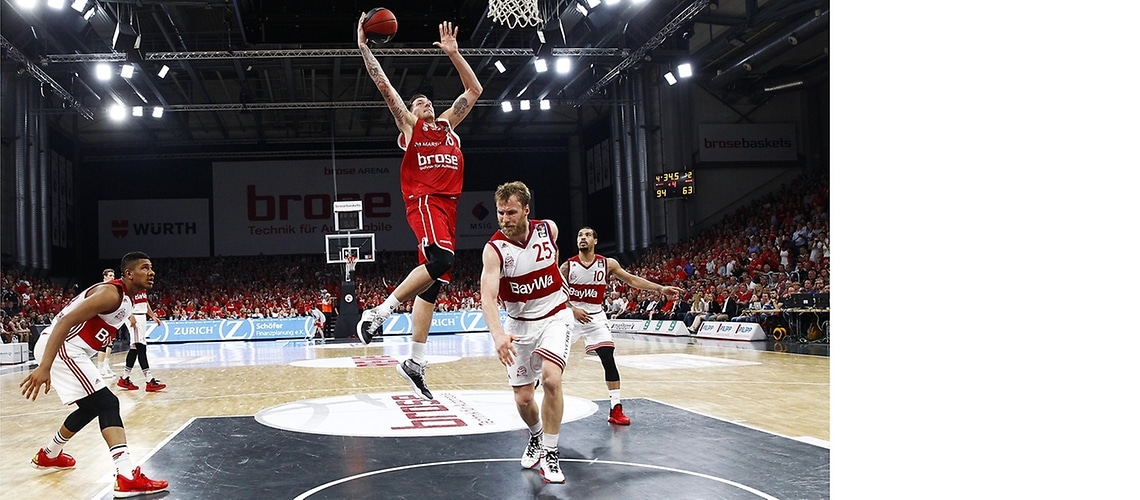 Bamberg, 05-29-2016
What a team performance! Brose Baskets strolled to a 96:65 victory to produce a clean 3:0 sweep in the playoff semi-final series against FC Bayern Munich and deservedly advance to the final of the German Championship. This magnificent achievement was down to the unselfishness of Head Coach Andrea Trinchieri's team: nine of the twelve players he used bagged a haul of between eight and twelve points.
From the tip-off, Trinchieri's players made it clear that they intended to stretch their series of 22 home games without defeat in the German league and dominated last season's runners-up with uncompromising defending. As in the first semi-final game a week ago, the home side led 14:3 after just five minutes thanks to great points Nicolo Melli and Brad Wanamaker. The timeout called by Bayern's Head Coach Svetislav Pesic was to no avail. On the contrary, after lay-ups by Wanamaker and Melli, Leon Radosevic and Darius Miller extended the gap to 24:8. The show of force by the German champions continued in the second quarter with strong defense and great combination play in attack: Bayern was only able to add twelve more points, whereas Bamberg surged 33:12 ahead and extended its lead to 47:15 in the 17th minute. And yet there was no Bamberg player who stood out individually: eight of them had five to eight points to their name – team basketball par excellence.
After the break (49:20), Brose Baskets continued the impressive display of their dominance in the duel of the arch-rivals, but without overexerting themselves. Trinchieri's team opened up a gap of 36 points (58:22) after the free throws by top scorer Daniel Theis (12 points) in the third quarter, a lead that was only surpassed by the 80:42 at the start of the final period. Of all persons, it was the former Bamberg player Anton Gavel who was the only one in Munich's side to put up stiff resistance to try and avert a debacle – he ended up as FC Bayern's top scorer and ensured that the losing margin was only 31 points in the end. For the home side Nicolo Melli, Janis Strelnieks and Elias Harris notched up eleven points each, Darius Miller scored ten and Brad Wanamaker and Patrick Heckmann added eight.
Andrea Trinchieri commented: "I believe we're deservedly in the final. Coaches Svetislav Pesic and Marko Pesic showed themselves to be gentlemen in defeat, I've great respect for both of them. We were ready to play our basketball and everyone played for the team. The result: we're playing our second final in two years. This series was just the semi-final. We now have a week's time, which we'll use to prepare. Whether Ulm or Frankfurt – our opponents will be brimming with confidence. I'm happy about the win this evening, but tomorrow my team and I have to get back down to work."
Brose Baskets now face the first game in the final of the German championship on Sunday, June 5, 2016 (tip-off: 3 p.m.). They have home court advantage in the Brose Arena in the first game and need three wins to defend their title. Their opponent has not yet been decided: the semi-final between ratiopharm Ulm and Fraport Skyliners Frankfurt currently stands 2:1 for Ulm.