Modena
Brose Motorsport: Stoschek/Hawranke on the winners' rostrum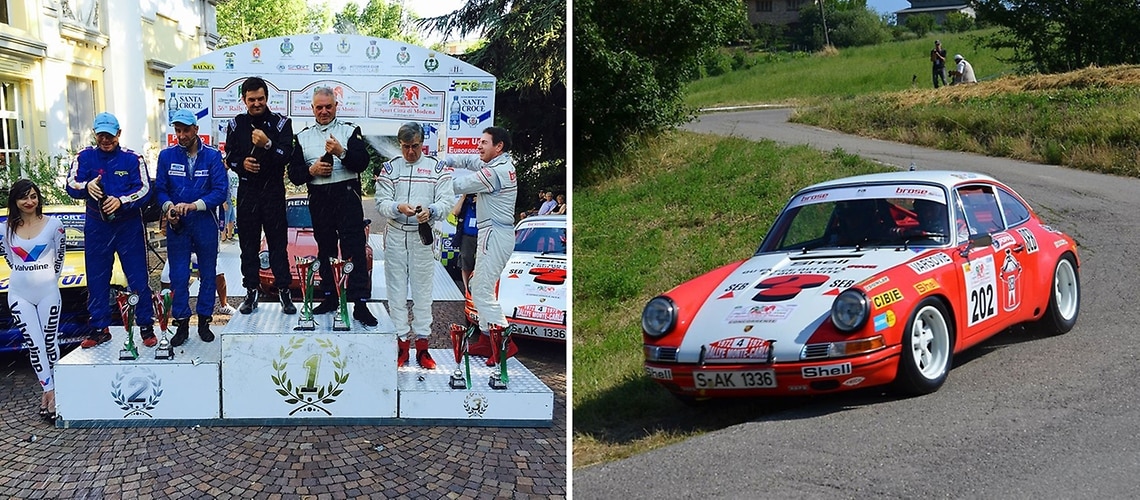 Modena, 06-28-2015
Modena (June 28, 2015). This was the first time that Michael Stoschek and his co-pilot Dieter Hawranke had entered the Città di Modena Historic Rally, which was held for the second time from June 27-28, 2015. The Brose Motorsport Team, the only German participants, lined up in the restored 1971 Porsche 2.5-liter works car. Stoschek/Hawranke finished 3rd overall on the first trial on the Autodromo Modena racing track, where four laps over 8.0 km were driven on the Saturday evening.
7 further trials over 98 kilometers were then on the program for Sunday. The extremely hot weather – with temperatures soaring above 30 degrees – made the rally a challenge for man and machine. Since the competition knew the trials from last year, the Brose Team had a disadvantage: the routes could only be inspected under normal road conditions and so no experience from driving at racing speed and without oncoming traffic could be gained.
Up to the final trial, 5 rivals had withdrawn, all of them behind Stoschek/Hawranke. Then there was a flurry of action. They were able to overtake one participant and another was forced to retire with technical problems.
As a result, the Brose Team captured second place in the class above 2 liters, third overall and so a place on the rostrum – and so was able to enjoy the champagne shower.
The next outing of the Brose Motorsport Team is the Grabfeld Rally on Saturday, July 4, 2015. Michael Stoschek and Philipp Spaeth will drive a 1970 Alfa Romeo GTAm.