Bamberg
Champions FC Bayern give Bamberg a basketball lesson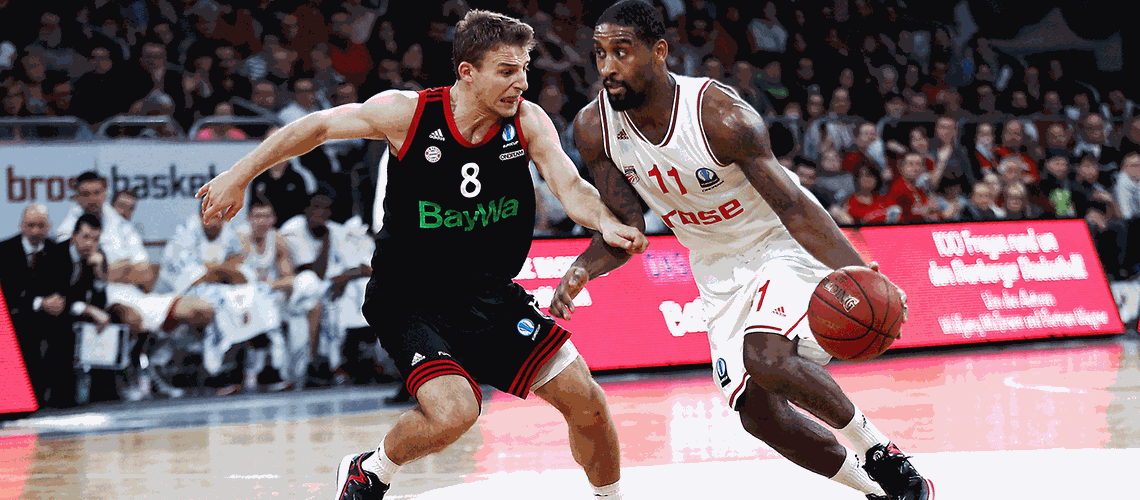 Bamberg, 01-14-2015
Brose Baskets were not able to repeat their 80:63 league victory at the beginning of January against the German champions in the last 32 of the Eurocup. FC Bayern Munich captured a 52:90 win on the road thanks to intense defending.
The way the game would shape up was clear –and its outcome as good as certain – after the first four minutes. On their first seven attacks, Brose Baskets failed to score against Bayern's tight and efficient defense, above all because Nihad Djedovic, who was missing through injury in the German league game between the two teams, kept on successfully disrupting the attempts by Bamberg's Brad Wanamaker to build plays. In addition, Bayern's center John Bryant got the better of Dalibor Bagaric on several occasions in the opening spell to score six of his side's first eight points. Bamberg trailed 0:13 after four minutes – the team of Head Coach Andrea Trinchieri did not get into the game and, in particular, did not come to terms with a Munich side that fought tooth and claw. Although Brad Wanamaker and Janis Strelnieks (6 points) reduced the deficit to 5:15, Bayern continue to dominate and, after ending the first period ahead by 6:22, stretched its lead to 6:29 after twelve minutes. Bamberg was disconcerted and even open shots from beyond the arc or seemingly simple lay-ups rebounded from the ring. The score was 20:46 after a half in which the home side conceded 12 turnovers.
Munich did not slacken its efforts after the break and had pulled away to 27:60 midway through the third quarter. Yet Brose Baskets kept on fighting – Ryan Thompson (12 points) drained two threes, Josh Duncan (7) made a slam-dunk and top scorer Brad Wanamaker (16) helped produce a run of 12 points without reply to cut the gap to 39:60. When Thompson reduced the deficit to below twenty at the start of the final period (47:65), hopes began to rise among Bamberg's team and fans again. However, Bayern tightened the screws in defense even further and struck back with a 0:14 run and seal victory by the wide margin of 47:79.
Andrea Trinchieri commented: "To spell one thing out: I take most of the blame for this terrible evening. I wasn't able to make it clear to my players properly what sort of game they could expect and didn't press the right buttons. We weren't ready. Of course, Bayern produced a magnificent display. A week ago we were all happy, today we're all frustrated. What we take away from this game is important. It would be a big mistake now to go into the dressing team and tear my team to pieces. Bayern played incredibly hard and strong. We weren't able to respond to that. We were careless and superficial at the beginning, that was our biggest mistake. The reigning champions taught us a lesson. That's no disgrace, they're a good team."
Brose Baskets can make amends at the weekend, when newly promoted BG Göttingen came to the Brose Arena on Sunday (tip-off: 5 p.m.). Bamberg narrowly won the league game between them in the first half of the season by 93:86 just under four weeks ago.