Lübbecke
Dinkel finishes third in the Stemweder Berg Rally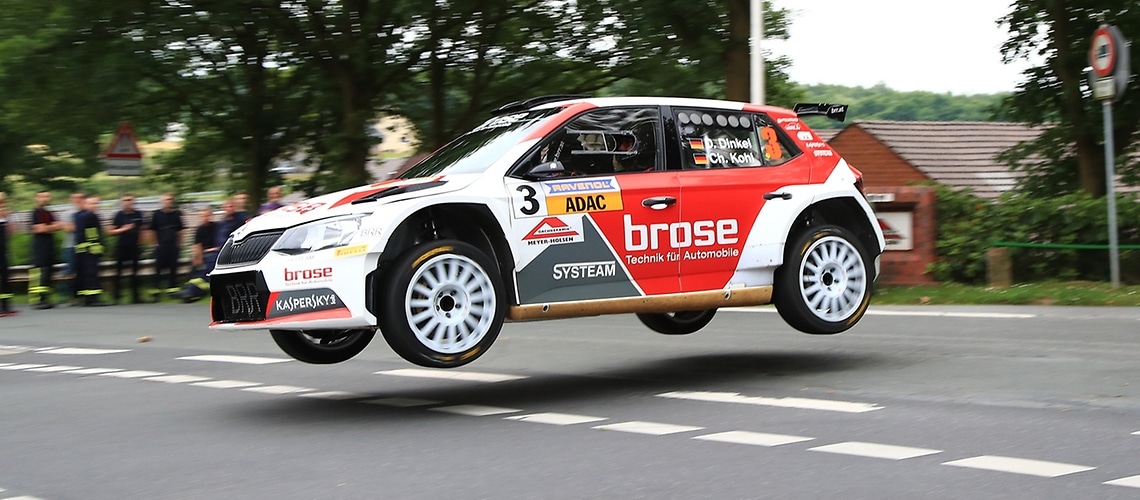 Lübbecke, 06-24-2017
Dominik Dinkel and Christina Kohl captured third place in the Stemweder Berg Rally after a thrilling tussle. Dinkel is now third in the overall standings with 67 points, behind Kreim (90) and Mandel (93).
15 trials over a total distance of 136.15 kilometers had to be driven in best time in the Stemweder Berg Rally around Lübbecke in Eastern Westphalia. Dinkel/Kohl clocked the second-best time on three occasions, finished third in five of the trials and several times were just tenths of a second behind the leaders.
However, a small mistake cost the team a valuable 15 seconds and so second place overall. Dinkel explains: "In a tight 90-degree left-hand turn, we made slight contact with a marker sign with the back wheel on the inner side of the bend. That was enough to throw the car off balance. We turned halfway around and then came to a halt crosswise to the direction we were meant to be traveling in. Since the road was narrow, I had to edge forward and reverse back several times before we could continue."
Dinkel is positive about coming third overall in the ADAC Stemweder Berg Rally: "We've tightened our grip on third place in the German Rally Championship and increased our lead over the teams behind us. And the gap between us and the teams ahead of us is not large," sums up Dinkel. "90 points are still up for grabs in the three remaining races. We want to capture as many of them as possible. We're gaining experience with the R5 and are looking to the future with optimism," adds Dinkel.
N-TV regularly broadcasts the highlights of the weekend of rallying in its show "PS - DRM - Die Deutsche Rallye-Meisterschaft" ("PS – DM – The German Rally Championship"). The magazine can be watched at any time in the n-tv media library.
The next showdown in the DRM will be at the Thuringia Rally around Pößneck from August 4 to 5. After many starts together, Dominik Dinkel and Christina Kohl know the route well and finally want a place on the rostrum there this year.