Stollberg
Dinkel luckless in the Erzgebirge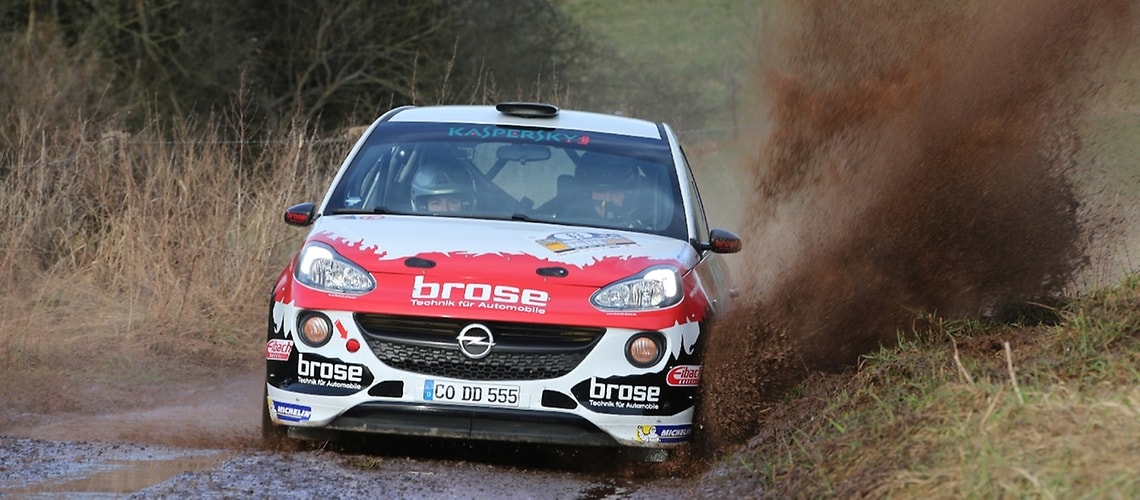 Stollberg, 03-28-2015
The young rally team lined up full of expectation for the second race in the 2015 German Rally Championship in its Brose Opel ADAM R2. Dinkel/Winklhöfer had previously impressed with splendid times in the first event, the Saarland Pfalz Rally.
They embarked on the first stage on the Friday night in their repaired car, starting in 19th on the night-time circuit "Oberdorf." The young pilot from Rossach succeeded in laying a good foundation for the next day: he ended the first day successfully by finishing with the eleventh-best time overall and top spot in his class (Division 5).
Things initially went according to plan on the Saturday, as well. Dominik Dinkel and his co-pilot Pirmin Winklhofer managed to keep on moving through the field thanks to outstanding times. By the end of the legendary circuit in "Grünhain" they were eighth overall and outclassed the competition in Division 5 with a lead of more than two minutes. However, the unexpected happened at the end of the seventh trial. After the Brose Opel ADAM R2 crossed the line in "Grünhain," its engine packed up completely. To his great disappointment, the young man from Rossach had to give up there and then.
After two extremely successful years in the Opel ADAM Rally Cup and an unrivaled low record of being forced to retire from races, Dinkel is currently being dogged by technical troubles. Nevertheless, Dominik Dinkel and co-pilot Pirmin Winklhofer should look positively to the future: the times the young rally team clocks are more than respectable.
The two of them will line up at the Tiefenbach Rally this weekend – a race where they will have the chance to test the car before the third race in the German Rally Championship is held in Hesse from March 17 to 18. Dinkel and Winklhofer will be back and raring to attack again in the Vogelsberg Rally. With the bit of luck they need and if the car holds up, good results are within their grasp.