Austin (Texas)
Engelhart: Hurricane results in chaotic Supercup finale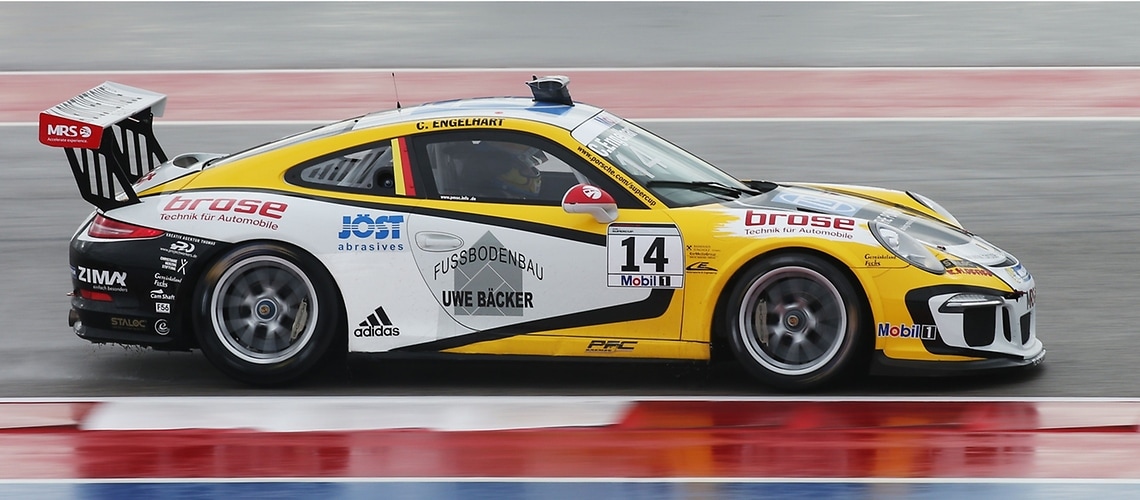 Austin (Texas), 10-25-2015
Continuous rain and thunderstorms meant that qualifying was called off and a race was canceled in Austin, Texas. The battle for starting position in the only remaining race became a game of roulette. The driver from Kösching produced a good race and so managed to get into the points.
Violent tails of a storm meant that free training on the Friday had to be postponed until the evening and the session shortened to 25 minutes. By way of exception, the Porsche Mobil 1 Supercup teams only had three sets of rain tires per car for the entire weekend of racing. Whereas other teams used several sets of tires in free training, Christian saved them up for qualifying. A crucial factor in the further course of the weekend was the fact that the MRS pilot was only able to clock one fast lap in free training as a result. When the heavens opened their floodgates again on the Saturday, Christian's championship fate took its course. All the sessions were canceled and the second-fastest lap from the Friday was used to determine the starting position for the sole race on the Sunday. That meant Christian, who had begun all races this year from the top 7, had to settle for 18th spot on the grid.
Given the very rainy conditions, the race on Sunday was then started behind the safety car. That made it difficult for the pilot from Kösching to move up the field. Nevertheless, despite having poor visibility for the most part, Christian managed to finish 13th over a shortened distance.
In the final standings in the 2015 championship, Christian therefore slipped back from second to fourth, albeit with the same number of points as the third-placed driver and only two points behind second spot.
Christian Engelhart: "I'd first like to congratulate Philipp Eng on winning the Porsche Mobil 1 Supercup. The fates didn't look kindly on me this weekend. Those who gambled with several sets of tires in free training were rewarded. It's a pity that we lost so much ground on the leaders and, of all things, that had to happen on the final weekend."