Monza
Engelhart: The closest pursuer going into the finale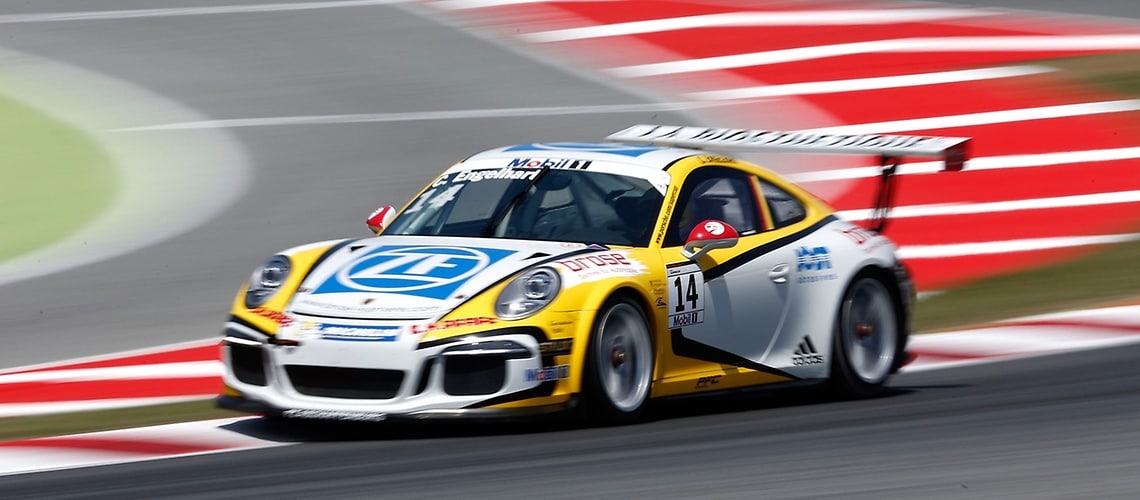 Monza, 09-06-2015
Christian Engelhart was able to reduce the gap to the leader on the penultimate weekend of racing in the Porsche Mobil 1 Supercup.
Engelhart was not able to translate his very good pace on the high-speed track in Monza into a place on the winner's rostrum, although he was always in the leading group. However, his chances were not made any better by the fact that he started from seventh and fourth on the grid in the two races. Despite those difficulties, Christian was able to make points good over Philipp Eng, the championship leader directly ahead of him.
"I started from seventh and crossed the line in eighth. I could definitely have come away with more," was how Christian summed up the first race, although he was still pleased about coming ahead of his greatest rival.
Christian began the second race on the Sunday from fourth, was able to open up a gap, but Michael Ammermüller ahead of him proved a tough nut to crack. After fourteen fierce laps and countless attempts to overtake, Christian took the checkered flag in fourth.
"That was a very close race and even though I had my nose on Michael's tail for as good as all the race, I couldn't find a way past," said the pilot from Kösching. "I was able to clock the fastest lap at the start, but no matter what I tried, I couldn't pass him. Still, fourth place means important points and now I've closed the gap to the championship leader to 17."
The final two races in the Porsche Mobil 1 Supercup will be held in Austin, Texas (U.S.) from October 23 to 25. Before that, however, Christian will line up in the Porsche Carrera Cup Germany. He aims to repeat the speed he showed in Monza on the tight track in Oschersleben – but this time from the front of the field if possible.