Nürnberg
HC Erlangen celebrates an impressive victory over Leipzig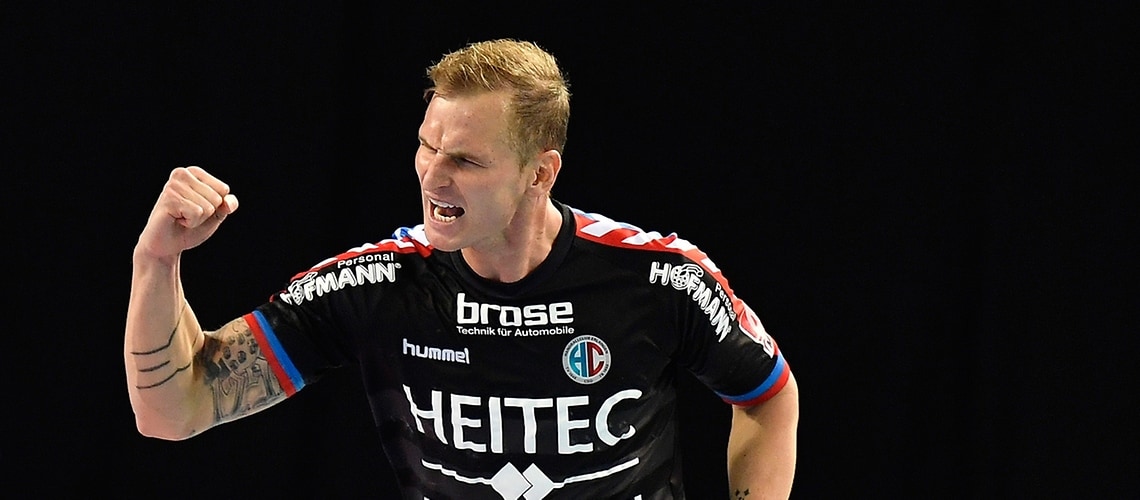 Nürnberg, 12-21-2016
In a stunning performance, HC Erlangen defeated SC DHfK Leipzig with a score of 31:22 (14:11). Coming at the end of the first half of the season, the victory puts the team of Head Coach Robert Andersson in ninth place of the German Handball League, with 16 points after 17 games.
The evening was also the seventh traditional BLACK NIGHT at the Nürnberger Versicherung Arena, at which the Franconian handball fans came dressed all in black. Well over 5,000 spectators showed up at mid-week to see the home team perform, and they got to see what they were hoping for: a fierce duel between two teams that have been surprising the league all season. The guests from Leipzig, who arrived in town occupying fifth place, started off with an extremely agile offence that created the expected tough challenge for HC Erlangen. But led by Jonas Link, who was chosen over captain Michael Haaß thanks to his strong performance against the Rhine-Neckar Lions, the HCE gradually adjusted to the guests' quick switching from defense to attack and kept the game open during the first quarter hour. By the 20th minute a pair of goals by Leipzig's Milosevic and another by Lukas Binder had put the guests from Saxony ahead by three points. But what happened next revealed the bond that had developed over recent years between the team and its Franconian supporters. Spurred on by the black-dressed crowd, HC Erlangen staged the kind of comeback that it has often displayed in this season when playing on its home turf. Coordination on defense between the goalkeeper and his teammates steadily improved, and the league newcomers seized every opportunity to go on the attack. Within six minutes Erlangen had tied the score, and from then on, thanks to the charged atmosphere, nothing could stop them. Goals by Nikolas Katsigiannis, Pavel Horák and Ole Rahmel put them ahead by 14:11 at the half.
Then as if the team had never taken a break, HC Erlangen stayed on the warpath. Within four minutes Andersson's players increased their lead to five goals, and they kept up the pressure. As the minutes went by, the team from Franconia grew ever more determined to stay on top of its fifth-placed opponent. With twelve minutes to go, the teams were separated by ten goals, but the HCE was still not satisfied. Finally, when Nikolas Katsigiannis parried the game's sixth seven-meter penalty the fans in the Nürnberger Versicherung Arena went wild. Once again, HC Erlangen has demonstrated that this sport is just what people in the region have been waiting for. Having prevailed over SC DHK Leipzig by a deservedly wide margin of 31:22, the top team from Franconia can go into the coming Christmas holidays with a very good feeling. On December 26 it will meet VfL Gummersbach in a contest for the final two points of the year.
Robert Andersson (Coach of HC Erlangen): "I'm really proud of our boys today. Without exception, each showed what he's able to do. We've made a good first half of the season into a very good first half, and we can all be proud."