Mannheim
HC Erlangen comes close to shocking the Rhein-Neckar Löwen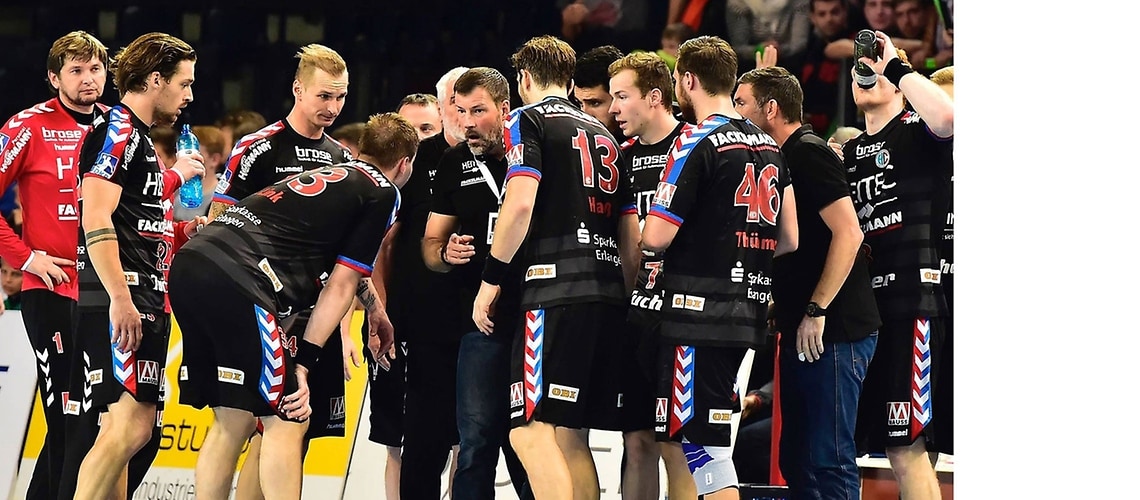 Mannheim, 12-17-2016
"We have to worry them from the start and we need to have a very good day – only then do we have a chance," said HC Erlangen's head coach Robert Andersson before the match against the reigning German champions. The HC Erlangen did indeed have a 'good day' on the evening – they only lost 27:25 (14:14) thanks to the champions' strong final phase.
Both teams started nervously in a game that had the Rhein-Neckar Löwen (Lions) of Mannheim predicted as obvious winners – but right from the outset, the German champions had problems with the extremely compact, passionate defense of the guests. HC Erlangen, without Nicolai Theilinger and Christopher Bissel, certainly didn't act like underdogs and competed on an equal footing with the world-class members of the Lions time and time again. Isaias Guardiola, back at his former Mannheim hunting grounds, put in a solid performance with basket assists and accurate passes to his teammates and he was the main reason why the HC Erlangen was still in the game after the first 30 minutes. Again and again the champions failed to get past the Franconian defense with a rock-solid Nikolas Katsigiannis. The Mannheim team was simply not allowed to move into the top gear of its dangerous, fast-paced game. Pavel Horak and Nikolai Link in the inner block successfully countered the moves of Andy Schmid and this helped the league newcomers from Central Franconia to keep the champs at arm's length. Isaias Guardiola scored just before the break to make it 14:14 and the teams swapped the court for the depths of the SAP ARENA catacombs and a well-earned interval.
The HC Erlangen team started the second half the same way it had played at the end of the first half. Pavel Horak dunk-slammed the ball past the Lions guard Appelgren into the basket and a couple of seconds later Ole Rahmel had the chance to put the HCE two points in front, but his shot was off-target. During this phase, HC Erlangen silenced almost 9 thousand spectators in the SAP ARENA. The newly-promoted team led until the 45th minute and manfully resisted the Lions' pressure. Jonas Link really deserves a mention here – he continually drove the Lions' defense to despair with his explosiveness, his throwing power and the sheer intelligence of his gameplay. In the closing stages, however, the Lions' star ensemble finally showed their true class and made all the decisive moves. In the end, HC Erlangen was only very narrowly beaten by one of the best teams in Europe after a passionate and convincing performance of which the Franconians should be proud.
The Erlangen boys have only three days to recover, because on Wednesday, December 21, the SC DHfK Leipzig will guest at the Nuremberg Versicherung Arena on the traditional BLACK NIGHT game, when the handballing Franconians will paint everything black, once again creating a very special and unique atmosphere.