Bamberg
Lackluster Brose Bamberg beat Göttingen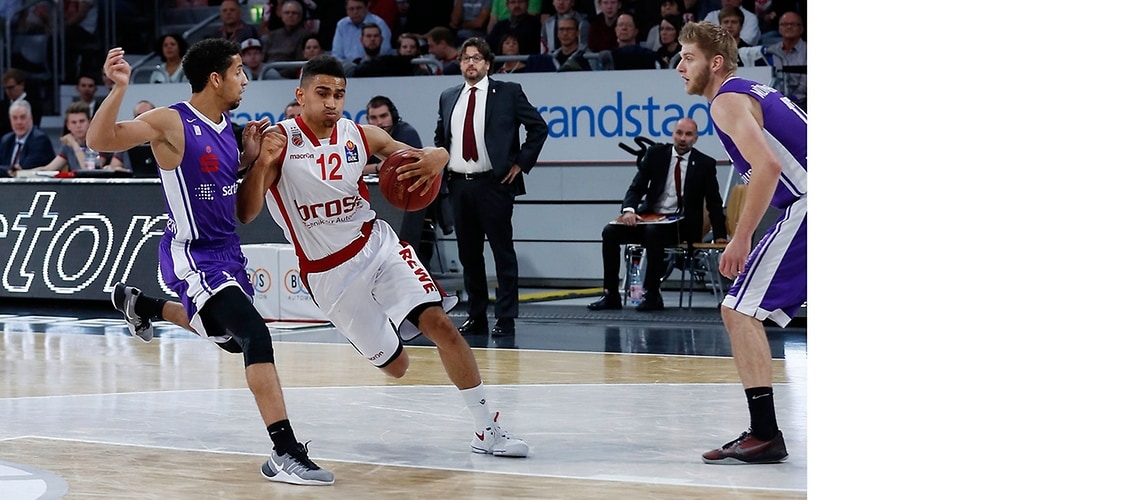 Bamberg, 10-12-2016
The thoughts of Brose Bamberg's players were probably half on Istanbul and the start of their Euroleague campaign on Friday: After a checkered first half, the team of Head Coach Andrea Trinchieri ended up defeating BG Göttingen comfortably by 93:82, but saw an at one stage 24-point lead slashed in the final quarter.
The main objective for Trinchieri in the game against the club from Lower Saxony was to spare his regular players just 48 hours before the Euroleague opener in Istanbul. Janis Strelnieks was missing due to slight thigh problems, Fabien Causeur and Darius Miller started the game on the bench, and old-hand Nikos Zisis and center Vladimir Veremeenko were only on court for just over eleven minutes. New signing Maodo Lo thus had the chance to make his debut in Bamberg's starting five and made his mark right away. The international drained two buckets from beyond the arc in succession and a lay-up, scoring all Bamberg's points as it swept 8:2 in front. Yet even the seven points by Elias Harris in the first period did not help the home side pull ahead by more than 23:19. Göttingen kept on finding gaps in Bamberg's defense and scored many buckets from downtown. Trinchieri was not at all happy about that. After calling a timeout with the score at 29:27, Bamberg's Head Coach got so worked up about the referees after a foul on Daniel Theis that two technical fouls were awarded against him by Martin Matip and he had to leave the arena. All the same, his team started ticking over nicely as a result: Maodo Lo scored his next three and six further points to go in a half-time without missing a shot (51:40).
Nicolo Melli, who was inconspicuous before then, took things into his own hands after the break and added eight of his total haul of 14 points in the third period to help his side quickly surge 20 in front (69:48). Göttingen was no longer able to keep up and top scorer Maodo Lo (19 points) and Fabien Causeur (12) added further buckets from outside to stretch the gap to 79:55. Assistant Coach Ilias Kantzouris, who directed the team from the sideline after Trinchieri had been disqualified, gave his players high fives at the end of the third period. Yet Göttingen did not intend to go down by a clear margin, exploited the fact that Bamberg wanted to conserve its energy for the Euroleague and soon closed the deficit to ten points at the start of the fourth quarter (81:71). However, Darius Miller halted Göttingen's storm with a three and lay-up. Top scorer Elias Harris (19 points) sealed his team's victory.
Brose Bamberg's Assistant Coach Ilias Kantzouris commented: "It was a tough game for us. We knew we had to set off for Istanbul in less than 24 hours and would have a very difficult game there in less than 48 hours. Our players are only human and we were certainly a bit worried about this situation going into the game. It wasn't our best performance against Göttingen, but a win's a win. We look at our mistakes and try to eliminate them."
Trinchieri's team embarks on the new Euroleague season on Friday, October 14, 2016, barely 48 hours after the encounter against Göttingen, when it comes up against Fenerbahçe Istanbul on the road (tip-off: 7:30 p.m.). Bamberg will be tested to the limits, since last season's runners-up have gone 21 home games without defeat in the Euroleague.