Berlin
League leaders ALBA BERLIN stroll to 91:60 victory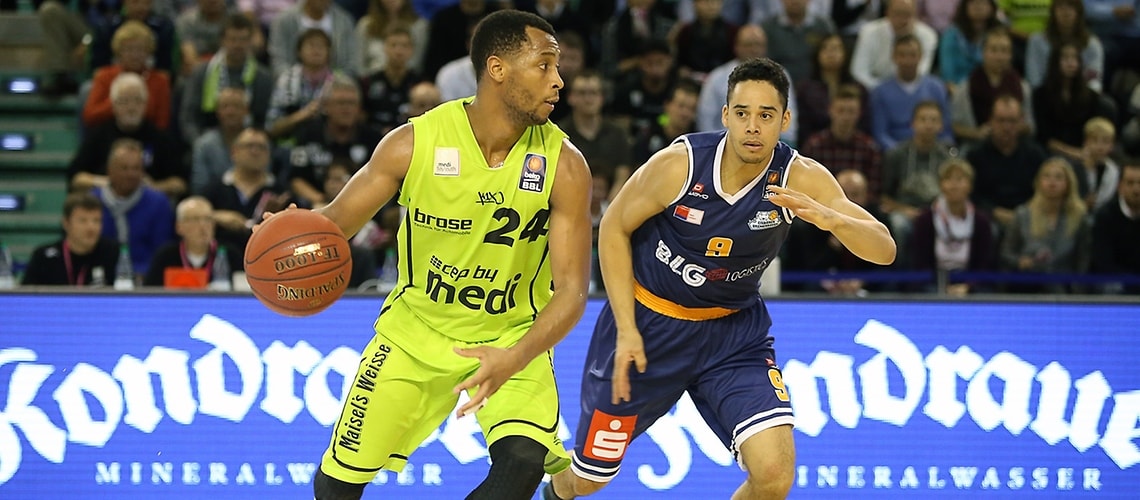 Berlin, 01-31-2015
The hopes were in vain: the journey to Berlin turned into a disappointment for the numerous Bayreuth fans and the team of Head Coach Michael Koch, as medi bayreuth lost on the road at league leader ALBA BERLIN by the clear margin of 91:60 (45:27). The Albatrosses, still seething with anger at their defeat in the Euroleague, did not give a whiff of a chance to the visitors from Upper Franconia, who were missing a number of players: Michael Koch had to do without Phillipp Heyden and Dilhan Durant, who had both gone down with the flu, as well as Lukas Palyza with an elbow injury.
In front of a crowd of 10,291 in the o2 World Arena, Bayreuth got off to the better start and was 5:8 in front after two minutes. Then ALBA turned the game around and pulled away, although medi refused to be shaken off. It was not until shortly before the end of the first period that the lead kept on growing to a clear margin that the home side would maintain up to midway through the third quarter, when the visitors clawed their way back into the game to close the deficit to eleven points. The scene of the evening – the ejection of Head Coach Sasa Obradovic in the 27th minute – finally decided the game.
With Mauricio Parra on the sideline, the club from Germany's capital city scored 34 points in the remaining time and conceded a mere twelve.
Michael Koch commented: "We knew going into the game that we had to play to the limit and ALBA would need to have a pretty lousy day to have a chance here in Berlin. But that didn't happen. ALBA exerted constant pressure the whole 40 minutes and we couldn't cope with it. We fought as best we could, but we didn't have a look-in today. You have to acknowledge that."
medi Bayreuth now faces a game against ratiopharm ulm in the Oberfrankenhalle this Saturday and will hopefully be back to full strength. The tip-off is at 6:30 p.m. Tickets are on sale at tickets.medi-bayreuth.de, the offices of the Nordbayerischer Kurier (Maxstraße 58-60) and at the theater box office (Opernstraße 22).