Coburg
Motor sport close up: Christian Engelhart visits Brose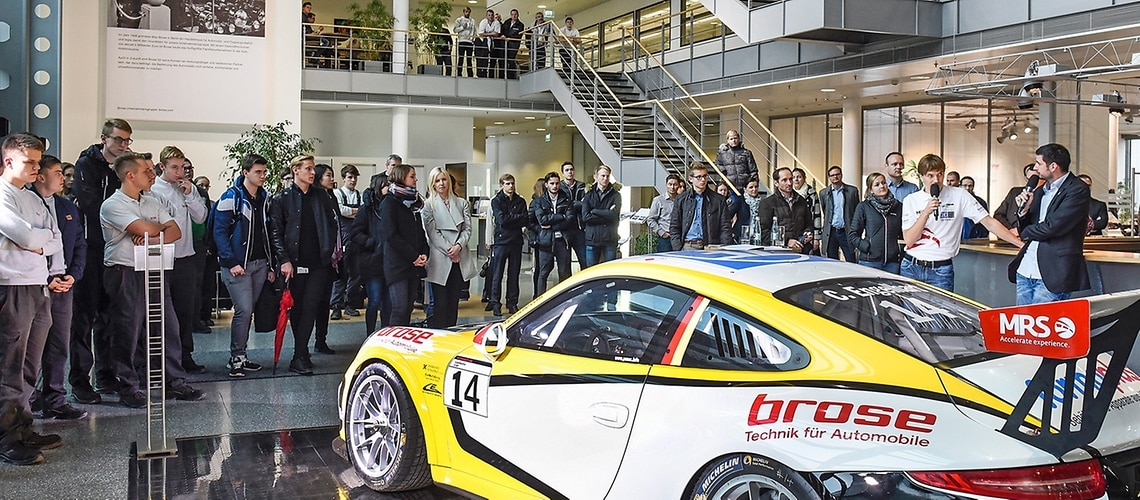 Coburg, 11-17-2015
On November 17, 2015, Brose employees at the Coburg location had the opportunity to see and hear the racing driver Christian Engelhart close up. The runner-up in the Porsche Carrera Cup is sponsored by Brose and held a moderated interview in which he gave the audience a lively account of last season, the turbulent race in Austin/Texas and thrilling insights into past races with reference to a video.
Many employees, including numerous trainees, took the chance to ask the pilot questions – for example about technical details, which Christian Engelhart explained directly and vividly at the Porsche 911 GT3, as well as on how he drives off the track. Many members of the audience were also keen to take up the offer to sit in the driver's seat in the Porsche.
After the interview the pilot fulfilled the many requests for an autograph and photo and answered further questions.
Brose wishes the ambitious and determined racing driver every continued success in the coming season.