Pößneck
No success in Thuringia for Dinkel and Kohl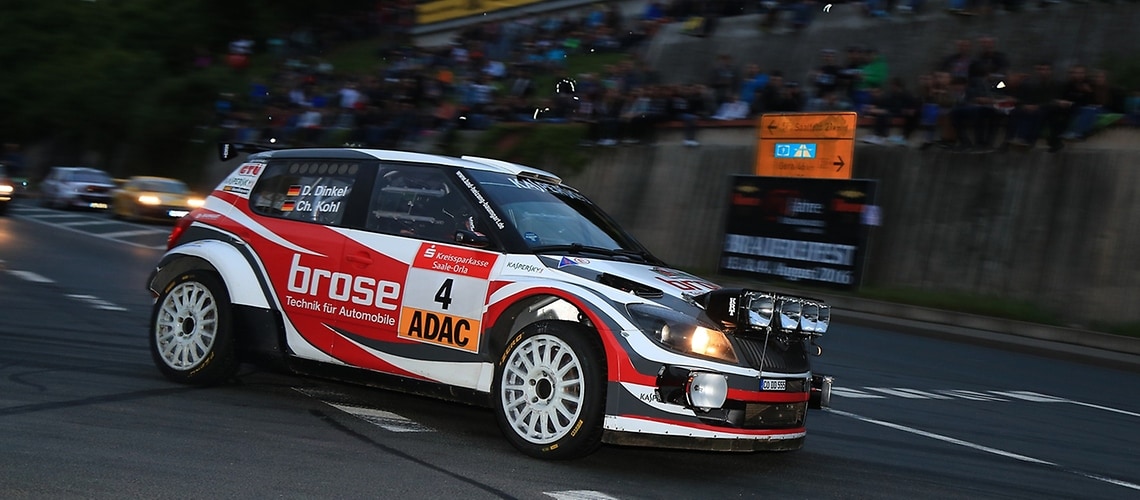 Pößneck, 07-15-2016
The sixth round of the 2016 German Rally Championship took place last weekend around the town of Pößneck in Thuringia. The sensational 3rd place overall at the ADAC Stemweder Berg Rally had brought Dominik Dinkel and Christina Kohl to within striking distance of the top spot, but their expectations for the weekend were nevertheless subdued. On the very fast tracks of the 55th DMV Sparkassen Rally in Thuringia, the Brose car was at a clear disadvantage compared to the lightning-fast R5 cars of Fabian Kreim and Christian Riedemann – but this was the sixth race of ten in the German Rally Championship and the aim of the team was to take home as many points as possible.
The event started on Friday night with the short 5-kilometer "Niederkrossen" sprint, but Dinkel and Kohl did not really shine on that course. The circuit course, however, was a different story. Many fans had come to the historic Pößneck circuit to cheer on Dominik Dinkel and Christina Kohl, who hail from the towns of Rossach and Tiefenbach.
When the race finished, Dinkel and Kohl were 10.2 seconds behind leaders Fabian Kreim and Frank Christian in a Skoda Fabia R5 and Christian Riedemann with Lara Vanneste in a Peugeot 208 T16 R5 in second place. With a fifth place overall and a third in the DRM, the team could still be satisfied with their performance in the Brose Skoda Fabia S2000.
Saturday morning started with the "Stelzendorf" special stage – 14.66 km had to be driven in the fastest time possible, but after just three kilometers, the first problems developed. A slow puncture cost our team a lot of time and after they changed the tire, they found themselves trailing the leader by 39 seconds going into the fourth event. Then fate struck again – the drive shaft cracked right at the start. On the "Bank Schenke" circuit, they had to complete two laps and the exit with the now severely-damaged Brose Skoda Fabia S2000.
It was time for the first service of the day for Dominik Dinkel and Christina Kohl. With a massive 2-minute time loss and a badly-damaged differential, Dominik Dinkel parked the Brose Skoda Fabia S2000 for the night – and that meant retiring with no points the next morning.
Four championship rally events have still to be completed. Victory for Dinkel and Kohl in the German Rally Championship is now only theoretically possible, but their third place is secure, with a lead of 31 points going into the next event.