Nussloch/Ahorn
Second triumph in the doubles for Kevin Krawietz this year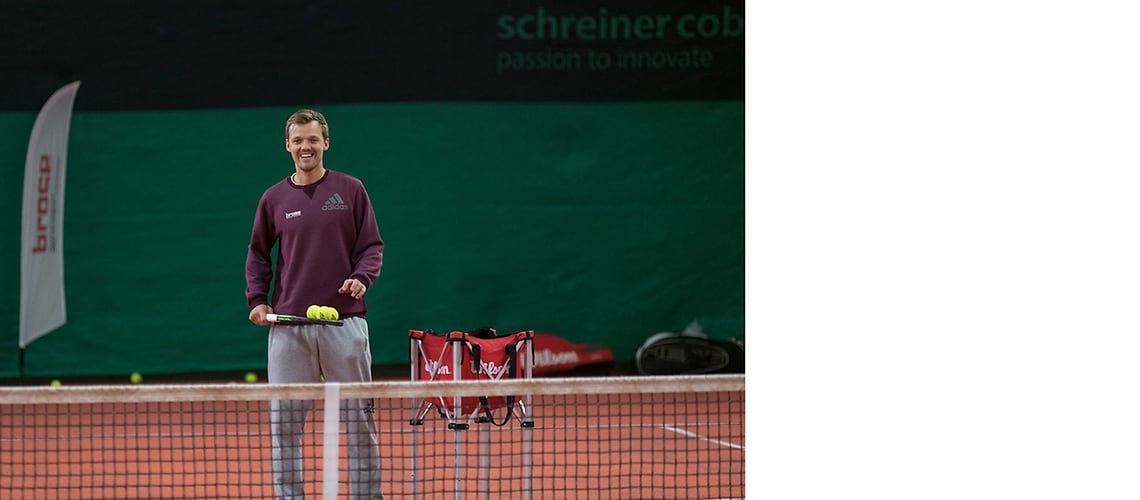 Nussloch/Ahorn, 01-28-2018
The Witzmannsberg tennis professional Kevin Krawietz has won the doubles with his partner Ruan Roelofse (South Africa) at the 2018 MLP Cup in Nußloch, a tournament where the prize money was 25,000 dollars. He came through qualifying in the singles, but then lost in the first round of the main field.
Krawietz started the singles qualifiers with two wins over Jakob Aichhorn (Austria) by 4:6, 6:3, 6:4 and the German player Leon Höveler by 6:2 and 6:1. He then came up against Jan Mertl in the main field. The 36-year-old from Prague is a familiar figure: He has been on the professional tour for 16 years and in his heyday was ranked 172 worldwide in the singles. Krawietz was highly focused to begin with, played almost flawlessly and took the first set 6:4. The second set was drama-packed. No player managed to break the other, so the tie-break had to decide it. Krawietz led 6:5 and so had a matchball on his opponent's serve, but he failed to capitalize on it. He finally lost the tie-break by 10:12. In the third set, more errors crept into Krawietz' game than was the case with Mertl, who came to terms better with the somewhat slow carpet covering and continued to play immaculately. The match finished after two hours and 48 minutes when Mertl took the deciding set by 6:1.
Krawietz was partnered by the South African Ruan Roelofse in the doubles. The duo blended well and defeated the Argentineans Juan Pablo Ficovich and Jan Pablo Paz by 6:4 and 6:1 in the first round. They also controlled their second-round match, defeating the two Germans Robin Kern and Tom Schonenberg. The next match, in the semi-final, was to be their toughest. The seasoned French duo Sadio Doumbia and Fabien Reboul awaited Krawietz and Roelofse. The first set was very even and the French pair took it on the tie-break by 7:5. However, the German and South African then adapted better to their opponents, confusing them by constantly rotating at the net and winning the second set 6:1. In the decisive super tie-break, they did not slip up and ran out winners by 10:7.
They then faced Daniel Masur (Germany) and Pedro Cachin (Argentina) in the final. Both are very good singles players and were seeded 2 and 7 in the main field. Yet they did not have a chance in the doubles against Roelofse and Krawietz, who stuck uncompromisingly to their strategy to win by the clear margin of 6:3 and 6:3. As a result, Krawietz sealed his second doubles title in January.