Ludwigsburg
Medi Bayreuth wins first leg of its Champions League match-up in Ludwigsburg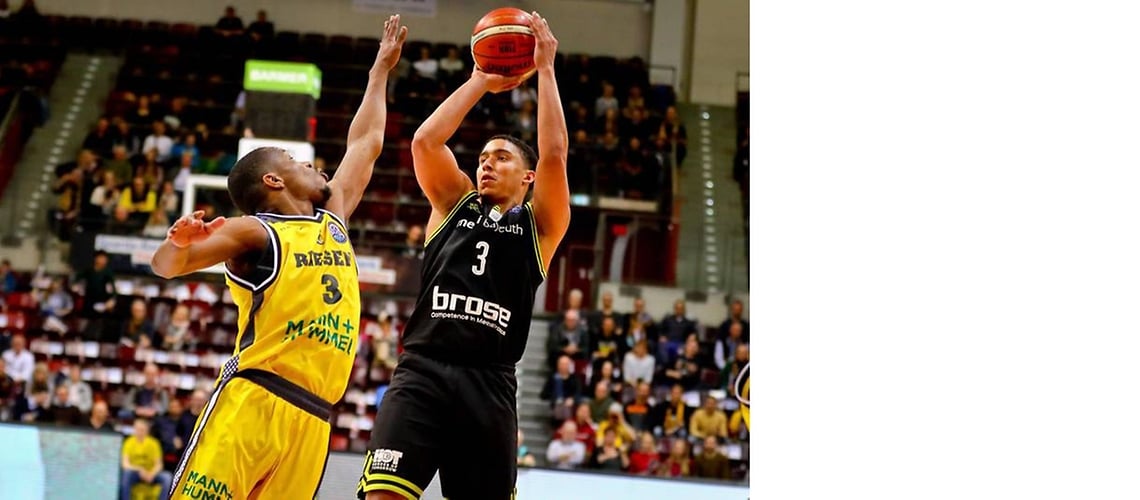 Ludwigsburg, 03-27-2018
With a 86:81 victory on the road at MHP RIESEN Ludwigsburg in the first leg of quarter-final of the Basketball Champions League, Medi Bayreuth has taken an initial small step toward advancing to the FINAL FOUR. In a very hard-fought and physical encounter on Tuesday evening, the team of Head Coach Raoul Korner ran out winners in front of 2,480 spectators in only a moderately filled MHP Arena to create a promising springboard for the second leg in Bayreuth's Oberfrankenhalle next Wednesday.
It was clear that a lot was at stake for both teams, especially in the opening spell. Ludwigsburg was knocked out at the quarter-final stage last year, whereas the Heroes Of Tomorrow had reached it at their first attempt. As a result, almost two minutes elapsed before James Robinson scored the first bucket from the floor. However, the sizing-up was soon over after that. The home side produced a 6:0 run to take its first small lead (9:4) and was able to hold on to it initially. The third-placed club in the easyCredit BBL German Basketball League repeatedly exploited turnovers clinically, for example through Thomas Walkup, who chalked up the first double-digit lead for MHP RIESEN with a three-pointer nine seconds before the end of the period (18:8).
Steve Wachalski opened the second quarter by scoring from downtown, a bucket that gave the Heroes Of Tomorrow new energy. James Robinson was able to cut the deficit to 15:18 in the 12th minute, but – just as it seemed that the lead might change hands – the home side struck again, capitalizing on three losses of possession by Bayreuth to move 24:15 in front and forcing the visitors to call a timeout. It was again James Robinson who got his side back into contention with his four points. The Heroes Of Tomorrow then tried again to take control of the encounter – and with success this time. Gabe York gave his team its first lead since the opening spell (28:27 after 17 minutes), but David McCray hit back from beyond the arc to make it 30:28, a gap Ludwigsburg was able to stretch to 38:31 within the next two minutes. The club from Swabia was even able to extend it further by half-time (41:33).
Thomas Walkup notched up the next double-digit lead for MHP RIESEN from the foul line in the 23rd minute (48:38). However, Medi was now able to handle Ludwigsburg's pressure better and got back into the game midway through the quarter. A bucket from outside by York was followed by a 3-point play by Assem Marei to make it 46:52, after which Gabe York drained another from downtown to cut the deficit to three points. The momentum was now with the Heroes Of Tomorrow, who in particular controlled the rebounds under their own basket and allowed only few second chances. The reward: They went back ahead when De'Mon Brooks drained an offensive rebound to make it 56:55 to the loud cheers of the Medi fans who had made the journey. Ludwigsburg then called a timeout. However, Bayreuth failed to hang on to its lead at the end of the period, also due to Adika Peter-McNeilly, whose buzzer-beating three made it 62:57.
MHP RIESEN carried over this buoyancy to the final quarter, where it was again able to extend its lead to 69:60 after a bucket from beyond the arc by Walkup in the 33rd minute. Could Medi stage another comeback? Yes – the team was now swept along in particular by Nate Linhart, who drained three straight buckets to make it 68:69, Assem Marei and James Robinson. The point guard even put his team in front by 73:72 with three minutes to go and stretched that to 79:74 a minute later. After calling a further timeout, the home side discussed its final spurt, which began promisingly with a three by Elgin Cook. However, De'Mon Brooks followed suit just 20 seconds later and with just over a minute remaining. After that, the Heroes Of Tomorrow did not relinquish their lead and, after Nate Linhart scored two free throws, ran out deserved winners in Ludwigsburg by a margin of five points.
Raoul Korner, Head Coach of Medi Bayreuth, commented: "That was a very good game of basketball by both sides today. I have to congratulate my team on building a five-point lead after the first game. We've established a fine starting position for the second leg and also want to win it. We're look forward to seeing our fans there. You know what you need to do: Come to the arena on Wednesday!"