Bamberg
Brose Bamberg defeats Medi Bayreuth and captures the better aggregate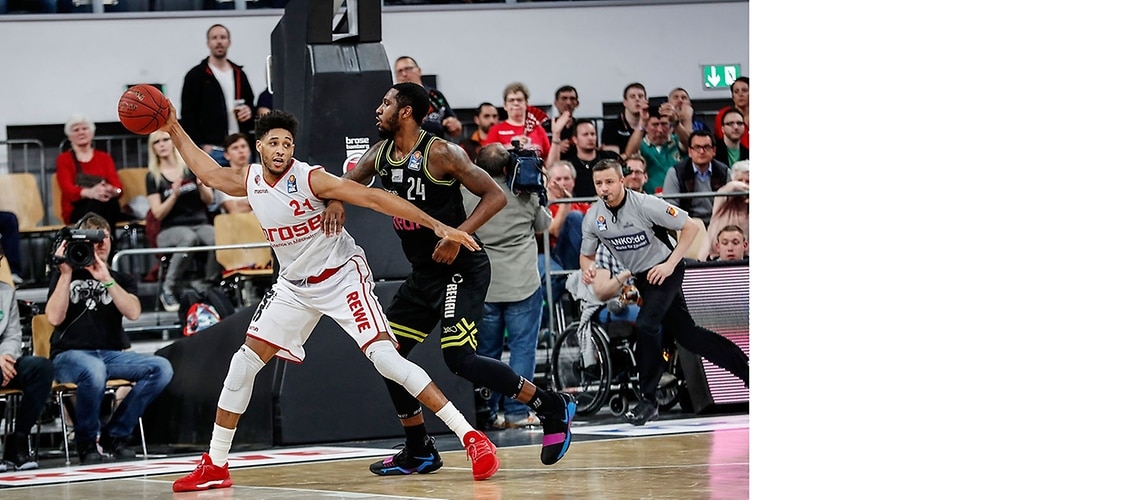 Bamberg, 04-11-2018
Thanks to a sharply improved display in the second half, Brose Bamberg not only defeated its local rival from Upper Franconia, Medi Bayreuth, by 88:73 in an exciting encounter that was postponed from the 18th matchday, but also managed to win on aggregate following the 75:85 loss in the first half of the season. Since Bamberg and Bayreuth, as well as Bonn, are now tied on points with a 17:11 record, and fourth-placed Oldenburg have just one win more, the defending champions now have good prospects – with four of their last six games at home – of finishing fourth at the end of the regular season.
The 6,250 fans in the sold-out Brose Arena saw a game of two different halves and the "two faces" of this year's Bamberg team. Bamberg began well with an unusual starting five – Head Coach Luca Banchi put his trust in youngsters Louis Olinde and Aleksej Nikolic alongside Wright, Hackett and Radosevic in the first six minutes – and led 10:5 thanks to two buckets from beyond the arc by Nikolic. However, Bamberg then made a number of slips, especially in defense, with the result that Bayreuth was able to build its confidence with its first two three-pointers and move 14:17 ahead. That was especially clear in the first eight minutes of the second period: Whenever Bamberg hastily squandered shots in attack and Bayreuth stormed forward with lightning speed after snapping up the defensive rebounds, the covering of Banchi's team in defense lacked organization. The upshot: the unmarked Robin Amaize buried three buckets from downtown and Steve Wachalski added two more to leave Bamberg trailing by 29:41. Nor did things go better for the home side in offense. Bamberg missed shots from below the basket too often and only 30 percent of its 15 attempted threes had hit their mark before the score stood at 29:41. However, Dorell Wright and Maodo Lo drained two threes shortly before half-time to reduce the deficit to eight points (35:43).
Luca Banchi must have found the right words in the dressing room, as Bamberg came back out with a different strategy and lots of passion and fight. Instead of continuing to attempt so many threes, shots from beyond the arc were the exception in Bamberg's play in the second half. Instead, the home side constantly attacked Bayreuth below the basket and in particular brought Augustine Rubit into play there. After a checkered first half, the new father literally woke up, vigorously gained the upper hand against his marker De'Mon Brooks on several occasions and capped his efforts with a lay-up or slam-dunk or was fouled and then made a high percentage of his free throws. Rubit single-handedly reduced the gap to 41:43 in the space of 90 seconds, after which the strong Daniel Hackett (ten points, eight rebounds and eight assists) gave his side its first lead in a long time (44:43). Bayreuth put up stiff resistance, went into the final period with a two-point lead, and kept the encounter up for grabs until Steve Wachalski drained his fifth three to make it 73:71. However, Augustine Rubit together with Daniel Hackett decided the game. A slam-dunk by Rubit after a dream pass from Hackett plus a bonus free throw, two free throws by Hackett and another bucket by Rubit made it 80:71. When Nikos Zisis then scored twice in a row, Bamberg also captured the better aggregate in the season's league meetings between the two clubs. It was left to the outstanding Augustine Rubit to put the cherry on the cake: With his next slam-dunk to take his total haul to 29 points, 16 of them in the final period alone, he chalked up his best performance of the season.
Luca Banchi commented: "Bayreuth prevented us from driving to the basket with its good defending and forced us to take shots from outside that unfortunately did not drop. We were very focused going into the game and wanted to win at all costs. Unfortunately, we didn't manage to reproduce that desire on court. We scored better in the second half and carved out routes to the basket by moving the ball better. At the end we leveraged our experience, made the right decisions and so won the game."