Giessen
s.Oliver Würzburg wins on the road to close the first half of the season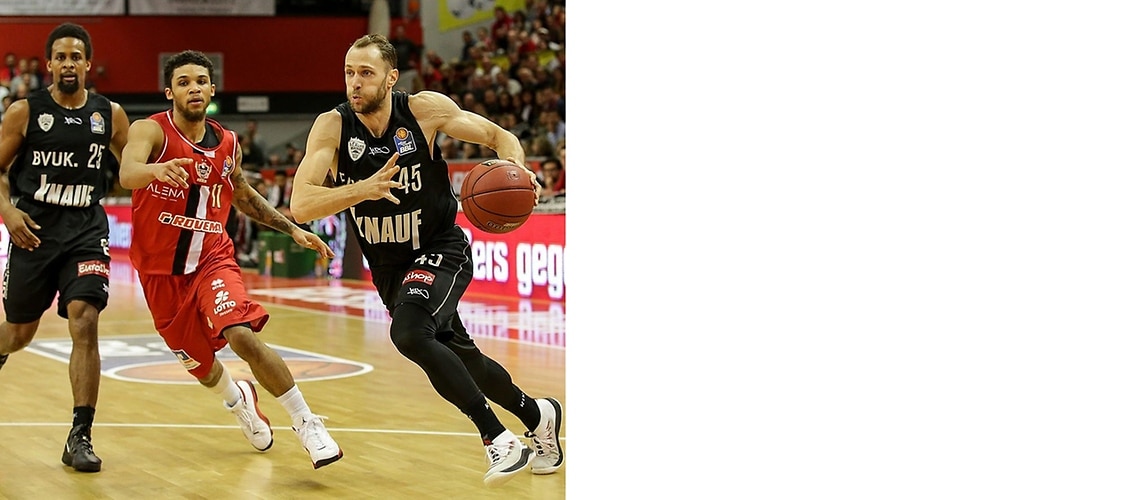 Giessen, 01-06-2018
s.Oliver Würzburg captured a deserved 86:80 win at GIESSEN 46ers on the final matchday in the first half of the season. In a fiercely contested encounter in which both teams displayed a lot of fight, the visitors opened up a double-digit gap by the 35th minute and did not let their ninth win of the season slip from their grasp at the end. All ten Würzburg players who were in action got on the score sheet, with captain Kresimir Loncar and Robin Benzing ending up as top scorers with 20 points apiece.
The opening minutes were characterized by intensive defending by the club from Lower Franconia, which repeatedly forced the home side to take tough shots and concede turnovers. The 46ers scored a paltry four points in the first seven minutes of the encounter, with the result that s.Oliver Würzburg was able to pull away point by point.
In particular the visitors' long-range shooters were in accurate form: Seven out of the first ten shots from beyond the arc found their mark, with Kresimir Loncar and Robin Benzing scoring three each. Shortly before the end of the first period, the visitors were 10:20 in front, before Mauricio Marin was able to drain Gießen's first three out of seven attempts to make it 13:20.
The home side fought back, producing a 6:0 spurt to reduce the gap to 22:33 in the 13th minute, after which the momentum changed sides almost every minute up to the break. The visitors first pulled away by 22:30, after which the 46ers went 37:32 in front. Würzburg equalized again in the final two minutes of the second period. The two teams went in at half-time with the scores tied at 37:37.
The third period continued in the same vein. After the score swung from 40:44 in the 24th minute to 52:49 in the 27th minute, Owen showed his class toward the end of the third quarter, scoring four points as the lead changed hands for the 13th and last time. Both sides went into the final period with the score at 57:60.
Trailing by five, Gießen clawed its way back to 64:66, but then the visitors started draining their threes again after a lengthy drought from downtown. Loncar scored twice and Maurice Stuckey once from beyond the arc to make it 65:75. John Bryant and Jahenns Manigat then put the home side back within striking distance again in a very short space of time. Robin Benzing, captain of the German national team, sealed his side's deserved win with a jump shot to make it 77:85 with 46 seconds left on the clock.