Moscow
WTCC: Tiago celebrates first victory of the season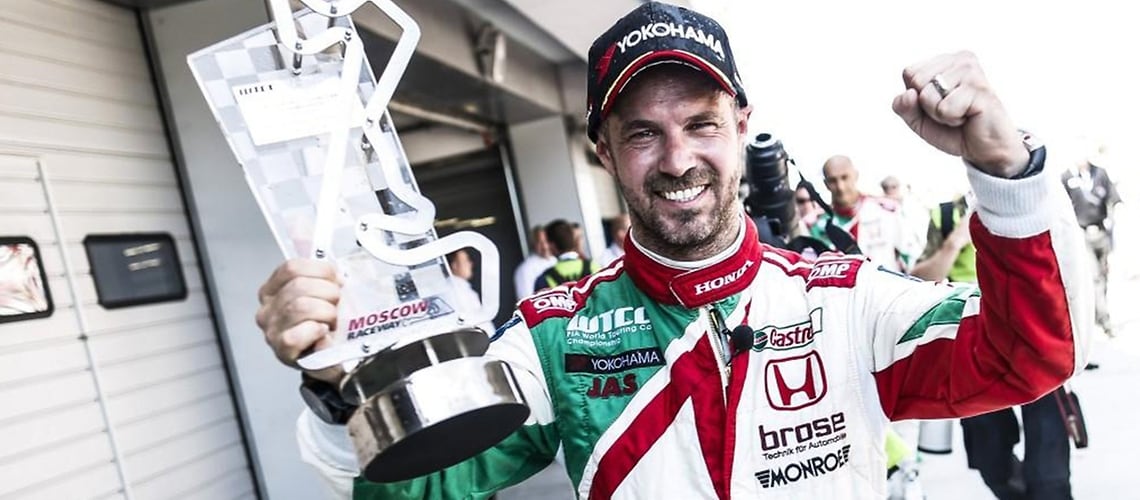 Moscow, 06-07-2015
Tumultuous celebrations in Tiago Monteiro's camp. The Portuguese driver won the second race in Moscow to notch up his first victory of the season on the fifth weekend of racing in the World Touring Car Championship (WTCC). As a result, the Honda pilot, who is sponsored by Brose, defended his fourth spot in the overall standings and increased his lead over fifth place to 18 points. "I'm very pleased for myself of course and for the whole team," said a beaming Tiago after his victory. "We've been fighting and working so hard to catch up, so these results are a huge boost. Congratulations to everyone."
Before that, Tiago had also impressed in the first race on the Moscow Raceway and managed to get into the points. Starting from tenth on the grid, he improved to eighth by the end and so captured four points in the driver's championship. He first picked off the Dutch pilot Nicky Catsburg in a Lada who had started ahead of him, then was able to pass the French Chevrolet driver Hugo Valente. Sebastien Loeb (Citroen) really turned on the pressure on Tiago at the close, but the latter was able to defend his eighth place against the holder of a record number of world rally championship titles. Tiago's teammate Gabriele Tarquini took the checkered flag in third. Yvan Muller in a Citröen won the race.
From pole position to victory
Tiago started from pole position in the second race, Thanks to a perfect start, the 38-year-old managed to open up a small gap over the chasing group behind him. Only Norbert Michelisz from Hungary, likewise in a Honda, was able to keep up with the pace to begin with. The two leaders were just a second apart for most of the race. However, the gap grew in the final phase. Whereas Tiago extended his lead slowly but surely, Michelisz came under increasing pressure from the Lada pilot Rob Huff. After the British driver managed to get into his rival's slipstream in the eleventh out of 16 laps, he passed him a lap later. However, the 2012 world champion could not close the gap on Tiago Monteiro. The ex-Formula 1 pilot competed a start to finish victory and crossed the line three seconds ahead of the second-placed driver.
The weekend of racing in the Russian capital was not only a resounding success for Tiago, who was able to chalk up his first victory since Shanghai in 2013. The trip to Moscow was also worthwhile for the Honda works team. "Gabriele got into the top 3 and now I've won. That's a good team result – and one we needed," said a relieved Tiago. With this success behind him, he can travel with stronger confidence to Slovakia for the next weekend of racing in the WTCC. World championship races eleven and twelve will be held on the Slovakia Ring on June 21. We wish him every success again.