Nürburg
WTCC: Tiago survives serious accident with slight injuries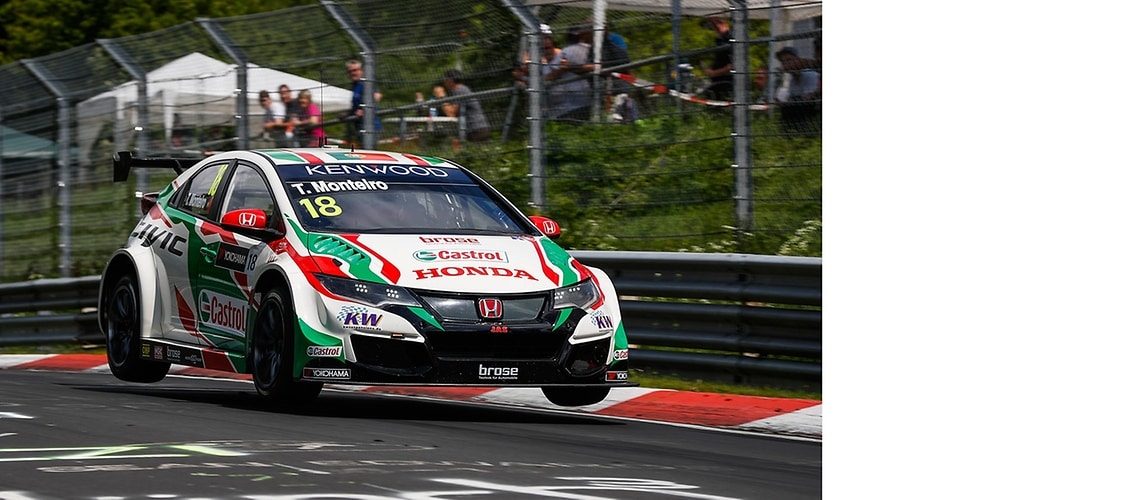 Nürburg, 05-28-2016
Tiago Monteiro had a lucky escape on the fifth weekend of racing in the World Touring Car Championship (WTCC). In the Opening Race on the legendary North Loop course of the Nürburgring, the Portuguese pilot, who is sponsored by Brose, slammed sideways into the tire wall at high speed after the front right tire on his Honda Civic burst in what is called the "Courage Bend." Yvan Muller (Citroen) behind him was not able to evade Tiago in time and collided with him. The 39-year-old had to be taken to hospital in nearby Adenau, but fortunately was discharged a little later. Apart from a few slight bruises, he survived the accident unscathed.
"That was a very big accident and one I'm glad to come away from with only some bruising and quite a bit of soreness in my body. I have to say thank you to Honda for building such a strong car," said Tiago. However, the ex-Formula 1 pilot was also very disappointed because he would have probably driven to victory in the Eifel if it had not been for the accident. "It's very frustrating because I was driving very carefully and not pushing too hard, but then I had a puncture at very high speed," added Monteiro, who at the time was leading in the second of three laps. "My tactic was to be quite cautious in most places and then push before the long straight to open up a gap on everyone else behind. I'm sure that I would have had a very good chance to win," stated Monteiro.
Monteiro started from pole position
As the tenth-fastest in qualifying, Tiago lined up for the Opening Race in pole position. With his great experience and routine, he managed to repel the attacks from his rivals behind him – until the accident robbed him of any chance of victory. Since Muller was also not able to continue after the collision, the world championship leader Jose-Maria Lopez (Citroën) crossed the line first, followed by Tom Chilton, likewise in a Citroën, and Tiago's Hungarian teammate Norbert Michelisz. Rob Huff – also in a Honda – finished fourth.
Due to the accident and his subsequent hospitalization, Monteiro was not able to line up for the Main Race on the Nürburgring. It was again won by Lopez ahead of Michelisz and Chilton. Huff repeated his fourth place from the Opening Race. Since Tiago did not pick up a single point in the Eifel, the gap between him and overall leader Lopez has increased to 69 points. However, he is still in second, ahead of his Honda teammates Huff and Michelisz. Team principal Alessandro Mariano is sorry about Tiago's serious accident, but was relieved that the Portuguese pilot did not suffer any serious injuries. Mariano was satisfied with the finishes of the two other Honda pilots: "Two places on the rostrum for Norbi and Rob's two fourth places are pleasing. We've come on a lot since last year." Tiago was also optimistic again about the next weekend of racing. "I'll be back again in Russia and attack just as hard as ever," he said. World Championship races eleven and twelve will be staged in Moscow on June 12. We wish Tiago all the best in them.