Bratislava
WTCC: Tiago wins and takes lead in overall standings
Bratislava, 04-17-2016
Tiago Monteiro is going from success to success in the World Touring Car Championship (WTCC) and celebrated his first victory this year after finishing second and fourth in the season opener. The Portuguese driver, who is sponsored by Brose, won the Opening Race on the Slovakia Ring near Bratislava and crossed the line in second in the Main Race. The Honda pilot has even taken the lead in the overall standings after two out of the twelve weekends of racing.
"That was a brilliant weekend for me and my team. I had two perfect starts and so was able to contend for victory in both races," said a delighted Monteiro. In the first race, the ex-Formula 1 pilot moved up from fourth to second right at the start and from then on set about chasing the leader Mehdi Bennani (Citröen). However, the Moroccan driver was able to defend his leading position for a long time. "Mehdi Bennani drove very well and didn't make a mistake. That meant it was difficult for me to judge when I could make my attack," stressed Monteiro.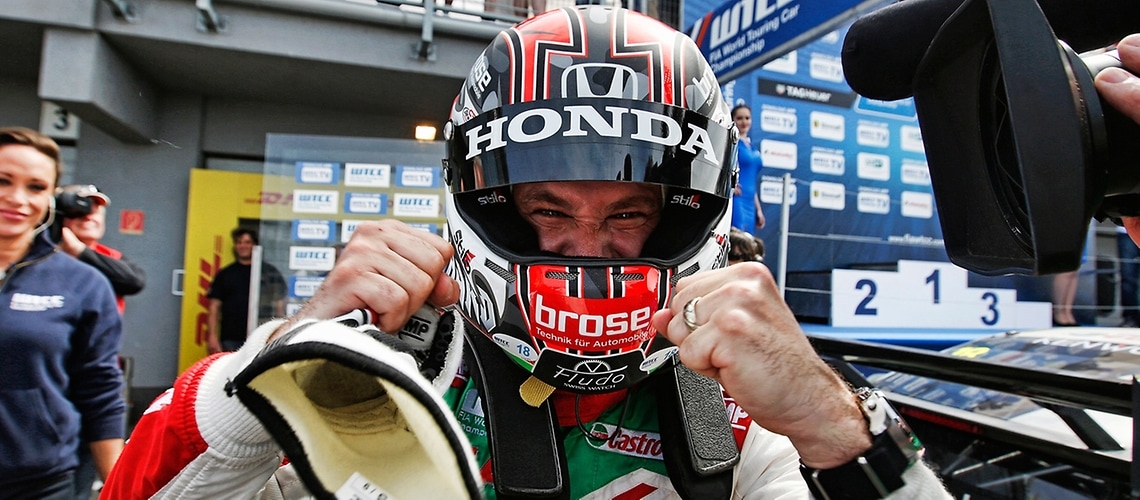 Monteiro fights his way into first
That moment came in the ninth out of eleven laps. Entering the bend, he braked inside Bennani and overtook his rival. The 39-year-old then comfortably held on to capture his eighth win in a race in the World Touring Car Championship. Monteiro's Honda teammates Rob Huff and Norbert Michelisz finished third and sixth respectively to round out the excellent result for the Japanese racing outfit.
Monteiro made even more ground up in the Main Race, even though it was not quite enough in the end to achieve a double victory. Starting from seventh on the grid, he quickly moved up a number of spots and entered the race's crucial phase in third. The Portuguese driver was able to pick off Nick Catsburg (Lada) on the final lap to capture second. However, he narrowly failed to catch Jose-Maria Lopez (Citröen), crossing the line seven-tenths of a second behind the Argentinean. "I could positively scent victory in the Main Race as well," said Monteiro. "But in the end I didn't quite manage it."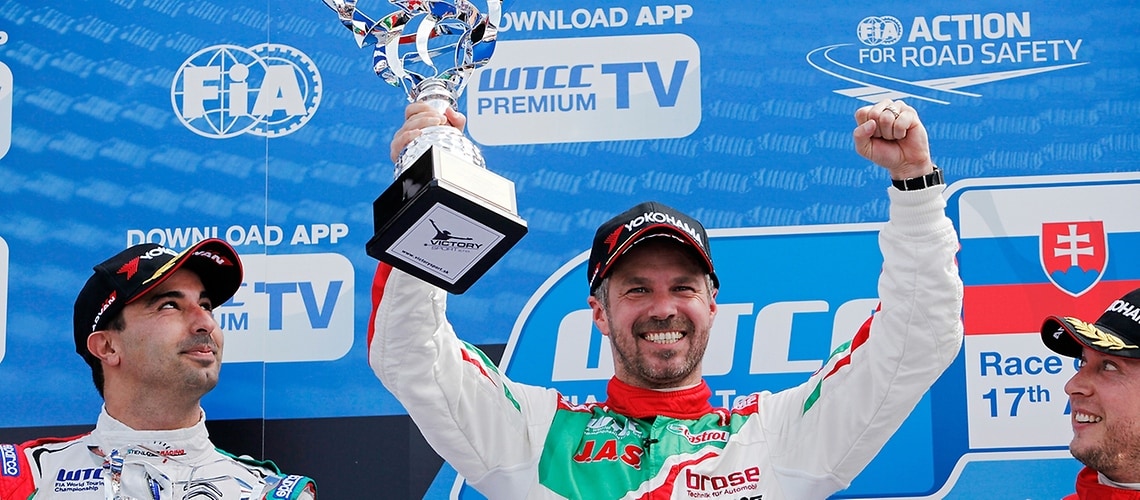 Historical achievement
All in all, however, Monteiro could be more than satisfied with his showing in Slovakia. "First and second place is my best result to date on a race weekend in my career in the WTCC. I'm also the first-ever Portuguese pilot to lead the drivers' championship in a FIA world championship. That makes me very happy," said Monteiro.
He has 77 points after four out of 24 races, one ahead of defending champion Lopez. His two teammates Michelisz (52) and Huff (49) are in third and fourth. Honda retained the lead in the manufacturers' championship. The next two races will be held on the Hungaroring in Budapest this Sunday. We wish Tiago and his team every success again.