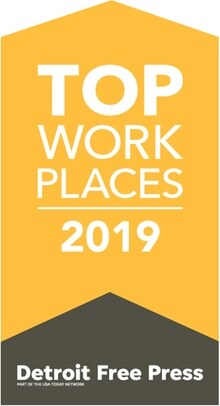 Michigan 2018 and 2019 Top Workplaces Award
Brose North America has been awarded Top Workplaces honor by The Detroit Free Press in 2018 and 2019. The list is based solely on employee feedback gathered through a third-party survey. The anonymous survey measures several aspects of workplace culture, including alignment, execution, and connection, just to name a few.
2017, 2018 & 2019 General Motors Supplier of the Year Award
GM's Supplier of the Year award is reserved for suppliers who distinguish themselves by meeting performance metrics for quality, execution, innovation, and total enterprise cost. Award winners represent companies who provide products and services to General Motors in the areas of vehicle components, supply chain and logistics, customer care and aftersales, and indirect services. Brose North America received this honor three times in a row, in 2017, 2018 and 2019.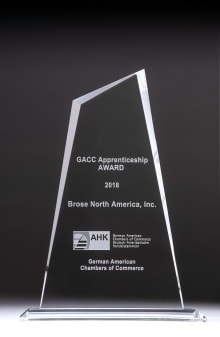 2017 and 2018 GACC Apprenticeship Award
In 2017 and 2018, Brose North America, Inc. was awarded the German American Chambers of Commerce (GACC) Apprenticeship Award. Brose was selected as the winner by an independent panel of experts for its global approach to training and deep commitment to apprenticeships as a solution to close the skills gap in the US.
2016 FCA Overall Supplier of the Year Award
Brose North America, a technological leader in mechatronics, received two 2015 FCA US Qualitas awards – the Body Quality Supplier of the Year for its door systems and the Overall Supplier of the Year award. The company was the only North American supplier to win two awards from the automaker. Brose was selected for each of its awards based on input from FCA US senior leadership, as well as its performance in key areas including quality, delivery, cost, warranty and partnership.