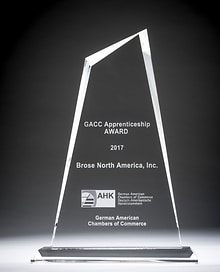 2017 GACC Apprenticeship Award
In 2017, Brose North America, Inc. was awarded the German American Chambers of Commerce (GACC) Apprenticeship Award. Brose was selected as the winner by an independent panel of experts for its global approach to training and deep commitment to apprenticeships as a solution to close the skills gap in the US.
2016 FCA Overall Supplier of the Year Award
This award signifies good quality product, on-time delivery, cost and partnership. All of these are important characteristics that Brose strives for every day at the plant and our employees are proud to exhibit.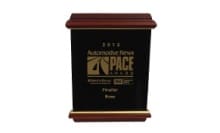 2013 Pace Award
In 2013, Brose won one of the most prestigious awards in the automotive supplier industry. With our sensor for the hands-free opening and closing of liftgates, our company beat six other finalists to win the Pace Award. It is presented each year by Automotive News in collaboration with Ernst & Young and Transportation Research Center Inc.