Berlin
easyCredit German Basketball League cup: Brose Bamberg finally wins the cup again after a five-year break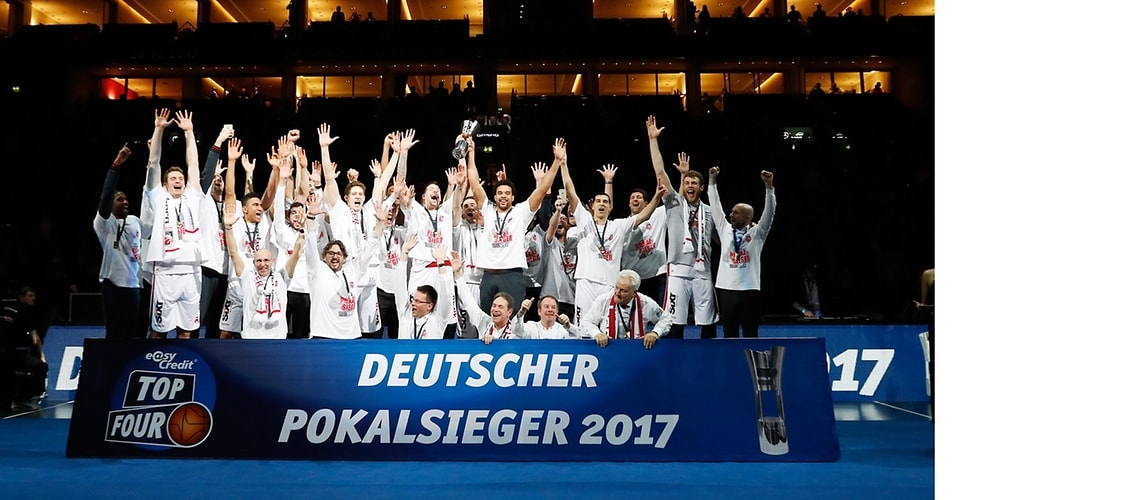 Berlin, 02-19-2017
The German champions Brose Bamberg had to wait five years to finally capture their fifth cup title and are now 2017 German cup winners (following the club's successes in 1992, 2010, 2011 and 2012). At the third attempt at the TOP FOUR under Head Coach Andrea Trinchieri, captain Elias Harris and center Daniel Theis thrust the small trophy into the air – to the jubilation of the team and coaches – in the Mercedes Benz Arena in Berlin at 5:19 p.m. on Sunday afternoon. Bamberg ran out winners in the final against FC Bayern by the narrow margin of 74:71 after brushing aside Ludwigsburg by 85:78 in the semi-final.
However, winning the cup may come at a high price for Bamberg: captain Elias Harris, who had already been out for eight weeks due to a knee injury, twisted his knee on the Saturday and was not played in the final on Sunday. In the final, it was the turn of Janis Strelnieks, who collided unluckily with Bayern's Devin Booker at the start of the second period. Strelnieks, Bamberg's best player with eight points up to that time, immediately reached for his left shoulder, had to be treated in the dressing room for a long time and did not return. He had dislocated his shoulder and suffered a suspected torn ligament, meaning he may be missing for a lengthy time.
Brose Bamberg was stretched in its semi-final against MHP Riesen Ludwigsburg: Although Trinchieri's team led 13:3 in the 4th minute and 22:15 after the first period, Ludwigsburg quickly got back into the game thanks to its many buckets from beyond the arc. Bamberg took a narrow 36:35 lead in at half-time, but even trailed by two points midway through the third period. Top scorer Daniel Theis (19 points) put his side on the road to victory with a slam-dunk, lay-up and free throws at the end of the third period, as Bamberg went into the final quarter with a seven-point lead (61:54). Bamberg extended the gap to 78:61 with four minutes to go thanks to buckets from downtown by Nicolo Melli and Nikos Zisis and two strong slam-dunks. Ludwigsburg produced a final spurt and cut the deficit to 81:76 with 76 seconds left on the clock, but Strelnieks and Zisis sealed victory from the foul line.
The final between the two rivals Brose Bamberg and FC Bayern was to reveal where both teams now stand: Three-and-a-half months had passed since Bamberg had strolled to a 90:59 victory in the German league and Bayern had since made a lot of changes to its squad. Trinchieri's team trailed to begin with by 2:7 and 11:16, but then found the gaps in Bayern's defense and was able to move ahead by 24:21 thanks to a three-point play by Daniel Theis and two threes by Janis Strelnieks. In the second period, it was in particular the strong Fabien Causeur who stretched the lead and it was his outstanding pass that set up Daniel Theis (17 points, 10 rebounds, 3 blocks) to score an alley-oop slam-dunk to make it 41:31 – the only ten-point lead in the game. After the break (45:36), Bayern made life difficult for Bamberg with rock-hard defending. Only Theis was able to assert himself against Bayern, making eight of Bamberg's ten points in the third quarter. Maodo Lo (9 points) broke the spell with a lay-up to make it 55:48. However, Bayern sensed it was in with a chance and Anton Gavel cut the deficit to just one (57:56). Bamberg's outstanding playmaker Fabien Causeur (18 points) calmed his side with two beautiful lay-ups from the left and free throws (68:50) with two-and-a-half minutes left. Yet more drama was in store – Bamberg sent FC Bayern to the foul line too often and so Bayern reduced the gap to 72:71 with 15 seconds left on the clock. And when Darius Miller lost possession while his team was building a move, Bayern even had the chance to score and win – but Nicolo Melli, who up to then had been rather out of the picture, blocked the lay-up attempt by Nick Johnson with six seconds to go: the game winner in defense. Darius Miller snapped up the ball, was fouled – and made amends for his mistake by draining the two free throws to make the final score 74:71.
Andrea Trinchieri commented: "It was a very tough game for us, but a wonderful tussle with a great coach for basketball fans. We controlled the counter for 39 minutes and then did something only truly great teams do: We won without playing well. But when we needed key points, we scored. It's the fourth title in three years for the players. I'd like to thank the people who enable us to go out and give our best."
Trinchieri's players do not have a lot of time left to celebrate: After two days off, they will prepare for the home game in the Brose Arena against Zalgiris Kaunas in the Euroleague on Friday, February 25 (tip-off: 8 p.m.), when they hope to exact revenge for the earlier 76:82 defeat.