Coburg/Stuttgart
Daimler Supplier Award 2009 for Brose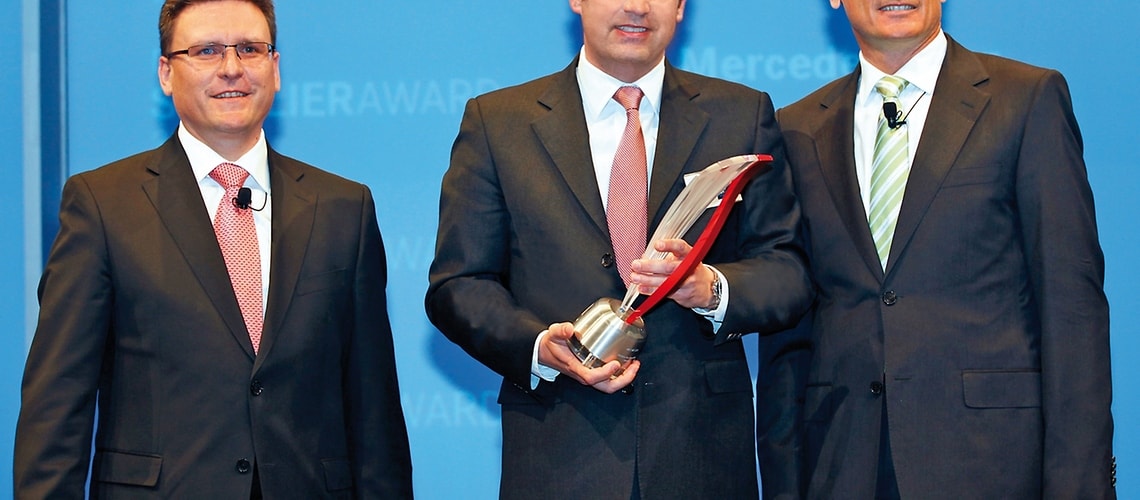 Coburg/Stuttgart, 03-22.2010
Brose was presented with the "Supplier Award 2009" during the "Daimler Key Supplier Meeting" staged by the Stuttgart branch of Mercedes-Benz. Daimler recognizes its suppliers' outstanding performance with this award.
The award rating system is based on supplier performance in the fields of project management, quality of engineering and delivery, cost, reliability of supply as well as technology and innovation. Further key elements of Daimler's cooperation with its suppliers are fairness, reliability and trust.
During this year's ceremony, Daimler bestowed five suppliers worldwide with the award in the business division "Cars and Vans". In the category "Exterior", the Brose Group demonstrated outstanding engineering performance, superior product management as well as high product quality of their door systems. The supplier develops door systems for all Daimler vehicle models and supplies them from its plants in Sindelfingen, Rastatt, Changchun (China), Brits (South Africa)and Tuscaloosa (USA) just-in-sequence direct to the automaker's assembly lines at the various production sites.
"We go for the best or nothing. We expect that of ourselves and of you" Dr. Dieter Zetsche, Chairman of Daimler AG, said during the ceremony. "It is this spirit that unites Brose and Daimler," commented Jürgen Otto, CEO of the Brose Group, on the statement "since we also strive to be the "Best of the Class" in all our product segments on an international scale."
For more than 60 years, the Brose Group has been a partner of Daimler AG, supplying door systems, window regulators, seat systems and electric motors for the entire range of vehicle models from A-Class to S-Class, minivans and trucks.