Frankfurt am Main
Plastic compact window regulator: costs similar to steel, same weight as aluminum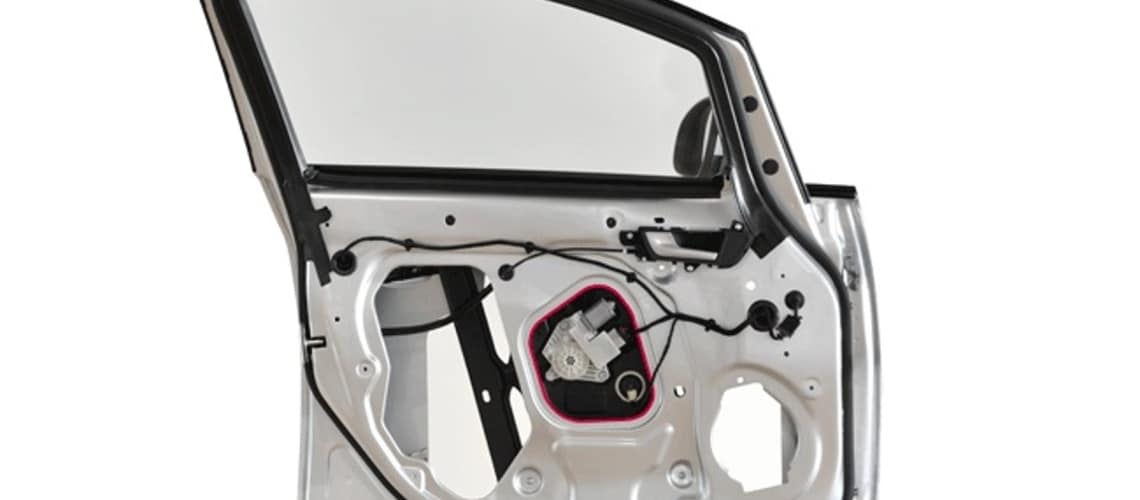 Frankfurt am Main, 09-14.2011
The Brose Group, world market leader for door systems and window regulators, presents a window regulator made of long glass fiber reinforced polypropylene with integrated guide rails and wet/dry side separation for the first time at the IAA 2011. In combination with a lighter and more efficient drive taken from Brose's modular system, the window regulator weighs just two-thirds of comparable steel versions, saving more than 600 grams of weight per door – at no additional cost.
Plastic injection molding provides further integration options in addition to the window regulator function: For example, mounting space for crash sensors or fastening elements for the inside handle and door cable harness. A foam seal on the base plate of the window regulator system allows the positioning of motor, electronics and wiring on the dry side of the door.
The decisive benefit of the window regulator is simplified assembly in the vehicle door: This compact, grease- and corrosion-free system reduces installation time by 30 percent.
The plastic window regulator with integrated guide rails meets all specifications required by customers as well as the ISO reuse and recycling quota and has a significantly improved ecobalance.
System competence worldwide
In the course of more than100 years, the family-owned company of Brose has evolved from a component manufacturer to a leading system supplier. The company has over 80 years' experience in the series production of window regulators supplying more than 52 million of them a year, thus establishing itself as the world market leader. The mechatronics specialist develops and produces essential components such as drives, electronics and window regulator mechanics in-house. The benefits for the OEMs: tailor-made products with perfectly attuned components which are produced worldwide based on the same processes and technologies. Weight savings, cost efficiency and the same level of quality of less than 10 ppm.