Bayreuth
Anderson scores 30 points to lead medi bayreuth to victory over the Polar Bears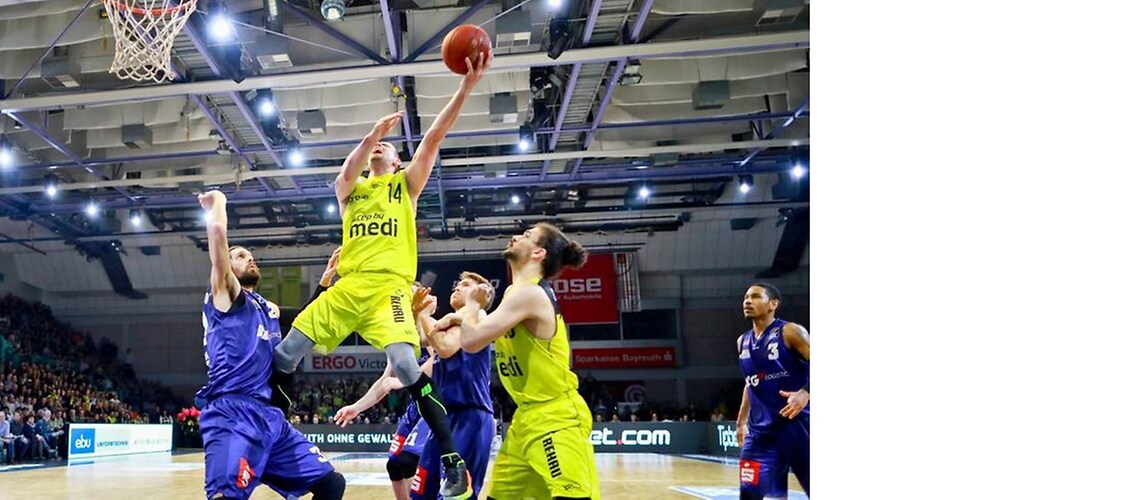 Bayreuth, 02-10.2017
medi bayreuth will remain fourth in the easyCredit German Basketball League after the 22nd matchday. The Heroes Of Tomorrow won their home game against Bremerhaven Polar Bears on Friday evening by 95:83 (58:47) to impressively lay claim to fourth place against their direct rival ALBA BERLIN. The victory for the Heroes Of Tomorrow was already their 15th out of 20 games – a tally that no Bayreuth team has ever achieved in the top flight since the club gained promotion again back in 2010.
The calm in the arena before the tip-off was extremely unusual on the occasion of this second "Silent Night Game" in medi bayreuth's history. And the visitors from Bremerhaven capitalized on that to begin with. After they tied the scores at 8:8 with a bucket from downtown by Fabian Bleck after barely three minutes, De'Mon Brooks followed suit to bring the initial silence to an end, after which the Oberfrankenhalle more than lived up to its reputation as a cauldron thanks to the enthusiastic fans. Both teams continued to chalk up a high shooting percentage, mostly from beyond the arc. When Jordan Hulls made it 23:20, it was already the sixth three the visitors had drained. However, medi bayreuth then gradually wrested control. Trey Lewis tied the encounter at 26:26, naturally with a three-pointer, and followed that up. Robin Amaize brought the period to a close with Bayreuth's sixth bucket from outside (31:28).
When Karvel Anderson put his side level (33:33), it was to be the last time the visitors were able to equalize. The Heroes Of Tomorrow then pulled away. Trey Lewis completed a run of seven points without reply to make it 40:33 and in the 17th minute the lead increased to ten for the first time (48:38) after Kyan Anderson scored. It was also Anderson who added a buzzer beater, from beyond the arc of course, to make the half-time score 58:47.
Repeatedly driven on by Kyan Anderson and Trey Lewis, medi kept the visitors at bay after the break. Lewis and Anderson drained further threes to enable Bayreuth to notch up 70 points after a little over 27 minutes. The fact that the Polar Bears remained in the game in the period's closing spell was mainly due to Karvel Anderson, who bagged eight points for his team, which trailed 62:77 going into the final quarter.
The opening minutes of the final period belonged to the visitors, who now benefited from the fact that the Heroes Of Tomorrow's shooting percentage was no longer quite so high. After Ivan Elliott drained yet another three, the gap had closed to 83:74. It was thanks to Kyan Anderson that the game did not get even more tense: He showed a steady hand from the foul line, making eight free throws in the final minutes alone to seal victory for Bayreuth.
Raoul Korner, Head Coach of medi bayreuth, commented: "Thank you for the congratulations. We had and have a great deal of respect for Bremerhaven. It used the unusually long break to stabilize itself and take another step forward as a team. We were warned, if only from our away game there. At the start, there wasn't much to be seen of our aim to defend physically. Both teams had a high shooting percentage. We were unleashed in offense, so the many mistakes we made in defense at the beginning didn't have any impact on the score. We managed to create second chances and force Bremerhaven to throw the ball away. Those were the things we had resolved to do. We also contained its assists, a department it wasn't so successful in today. However, we were repeatedly beaten one on one. At the end of the day, it was an important win for us. When you're made the favorite from outside, these are crucial victories. Now we've two weeks to prepare for the very important encounter in Bonn."