Breitenguessbach
BBC COBURG celebrates derby win over Breitenguessbach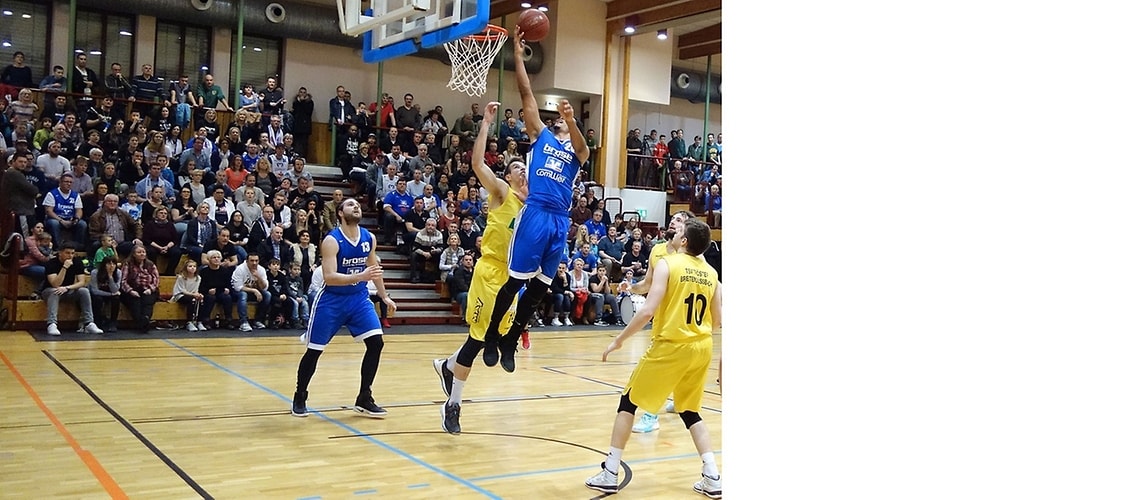 Breitenguessbach, 03-04.2017
After a convincing 88-68 win in the Upper Franconia derby at TSV Troester Breitenguessbach, the ambitious 1. Regionalliga newcomers BBC COBURG continue to top the league charts and could clinch the championship in the next matches.
The local rivalry game featured a packed Hans-Jung-Halle and the long-awaited return of BBC's leading scorer, Jordan Burris. After a two-week injury hiatus, the sharp-shooting forward did not waste any time in shaking off the rust and connected on three first-quarter triples to give the visitors an early 20-9 lead.
However, a rugged, physical home team fought its way back into the game with relentless drives to the basket resulting in 17 first-half free throw attempts. TSV also milked a distinctive size advantage in the paint and were up by one with ten seconds to go in the first half. Then "Buzzer Burris" struck again: With a trademark long-range bomb from midcourt, he turned a botched final play into a 40-38 BBC COBURG halftime lead.
Fifth-ranked Breitenguessbach would not just go away, though. A Sven Lorber trifecta put the hosts back in the driving seat and gave them a 50-43 lead early in the third quarter. Then, however, the 1. Regionalliga top dog started to put on a clinic in front of sellout crowd of more than 800. Coburg's switching defense disrupted TSV's offensive rhythm and forced them to hoist ill-advised shots. On the night, Breitenguessbach's field goal percentage plummeted to 36 per cent.
At the other end, BBC's fast break attack was now thriving. While in the first half, much of the scoring load rested on Jordan Burris' shoulders, now his teammates contributed, as well. A crucial and-one by center Daniel Stawowski, numerous drives by guards Eividas Molosciakas and Steffen Walde plus the ever-efficient Fabian Franke, who scored 16 of his 18 points after the break, proved to be too much to handle for a home team plagued by foul trouble.
"Today, we saw a true team effort. We made mistakes but there was no finger-pointing afterwards. We regrouped and just continued to play", floor general Molosciakas pointed out.
On Sunday, March 12, at 4 p.m., BBC COBURG hosts BG Leitershofen/Stadtbergen.