Coburg
BBC COBURG defeats hapa Ansbach Piranhas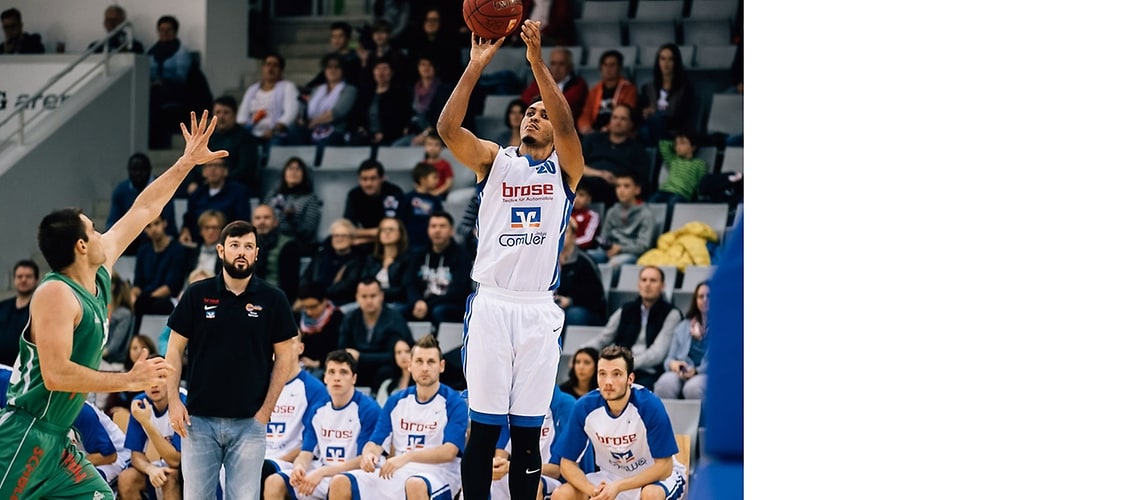 Coburg, 11-29.2016
On Saturday evening, BBC COBURG beat hapa Ansbach Piranhas 84:76 and improved to 4-1 in 1. Regionalliga play.
Against 6th-ranked Ansbach, great ball movement and crisp interior passing helped BBC to an early 12:0 lead. When forward Jordan Burris exploded to the rim and threw down an emphatic tomahawk jam, the HUK-COBURG arena crowd of approximately 1,000 seemed to be in for another blowout win.
Then, however, the guests switched to their infamous zone defense and BBC's offense began to sputter. The hosts failed to consistently attack the gaps of the 2-3 zone and shot an abysmal 23 per cent from the perimeter in the first half. Slowly, Ansbach managed to crawl back into the game (43:36, 20.).
The third quarter saw more of the same: A somewhat stagnant BBC offense desperately tried to punish the Piranhas from beyond the arc while the guests never truly managed to threaten the Coburg lead.
Finally, at the beginning of the fourth quarter, the home team came to life and sealed the victory: Burris (19 points, nine rebounds, five assists) and Croatian guard Sasa Gligorovic (12 pts) made consecutive threes and Vlade-Divac-esque passing center Daniel Stawowski (five assists) repeatedly found cutters Steffen Walde (18 pts, 5 ass) and Fabian Franke (19 pts, 10 reb) on high-low post plays.
"It might not have been spectacular, but we were in control all night", said Matt Haufer, BBC COBURG's sports director, after the final whistle. Headcoach Simon Bertram added: "We still tend to play in spurts instead of maintaining a high intensity level throughout the game. We also gave up too many offensive rebounds to an undersized team. On the other hand, we managed to limit the efficiency of their key players and we forced them to take a lot of tough shots, as evidenced by their 39 per cent field goal percentage."
BBC are on a three-game winning streak and improve to 4-1 on the season.