Stadtbergen
BBC COBURG take over top spot with come-from-behind win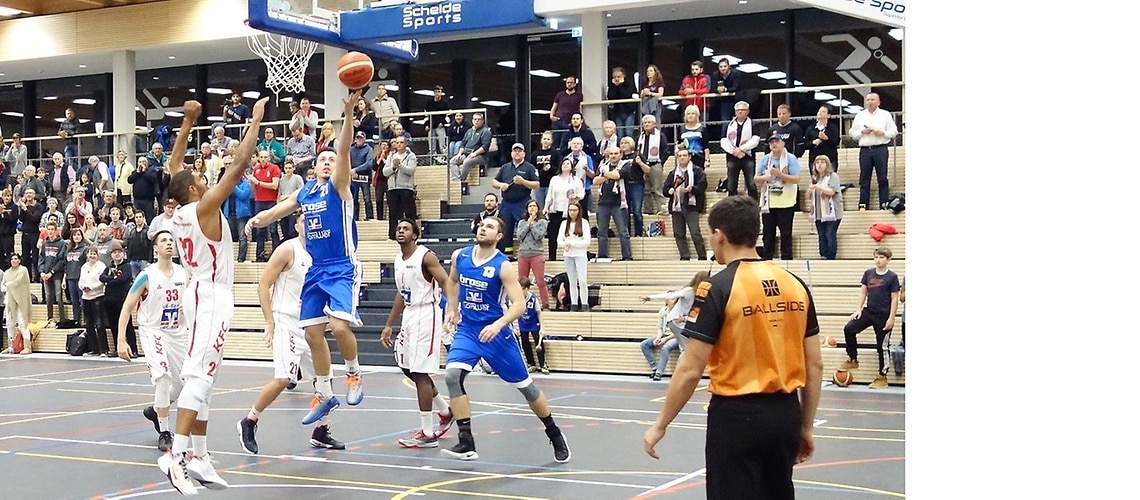 Stadtbergen, 11-19.2016
A shorthanded BBC COBURG team ground out an 82-74 road win at BG TOPSTAR Leitershofen/Stadtbergen on Saturday evening. The Upper Franconians' sixth consecutive league win propels them to 1st place in the league standings.
"To hell with circumstances, let's create opportunities" – in his pre-game speech, BBC COBURG head coach Simon Bertram quoted legendary martial artist Bruce Lee. The reference was on point: circumstances surrounding his team's road trip to 11th-placed BG TOPSTAR Leitershofen/Stadtbergen were far from ideal. Guards Sasa Gligorovic and Kevin Eichelsdoerfer were out injured while wing Michael Herold did not make the trip for personal reasons.
To add insult to injury, BG TOPSTAR came out ready to defend their home court and quickly established a 10-4 lead. A timeout by Coach Bertram stopped the bleeding momentarily, but BBC continued to look sloppy and was plagued by uncharacteristic turnovers and misses. Bigs Fabian Franke (19 points, 7 rebounds) and Daniel Stawowski (13 points, 8 rebounds) kept the guests in the game with their offensive rebounding and inside scoring but still the hosts took a seven-point advantage to the locker room (44-37, 20.) and appeared in control.
In the third quarter, however, momentum shifted: Coburg's defense now markedly turned up the pressure and started to generate steals which led to easy layups at the other end. BBC chipped away at the BG lead and when Jordan Burris (26 points, 11 boards) converted one of his five take-aways into a breakaway dunk, the complexion of the game had changed entirely (48-50, 25.). Coburg went on to win the quarter 27-9 and seemed to have fended off the home team's challenge for good.
But the Kangaroos rallied once again and came back within four with one minute to go (69-73, 39.). They then sent Coburg to the charity stripe to stop the clock hoping to capitalize on the BBC's free-throw shooting woes that evening – all in all, they shot an abysmal 48.5 FT percentage on the night. This time around, however, Burris and Steffen Walde calmly knocked down six freebies in a row and secured a hard-fought 82-74 win for their squad.
After the final buzzer, Lithuanian Point Guard Eividas Molosciakas, who played the entire 40 minutes, dished out six assists and committed only one turnover, praised his teammates' resilience and character: "Tonight, we showed that we have grown as a team. We did not crumble in the face of adversity. If we can maintain that level of composure, this could become a special season."
Thanks to upset losses of their main competitors, BBC COBURG take over the top spot in the league rankings with a 7-1 record. They face Longhorns Herzogenaurach in HUK-COBURG arena next Sunday at 4 pm.