Ulm
Beko German Basketball League playoffs: Brose Baskets defeat Ulm 92:90 in overtime thriller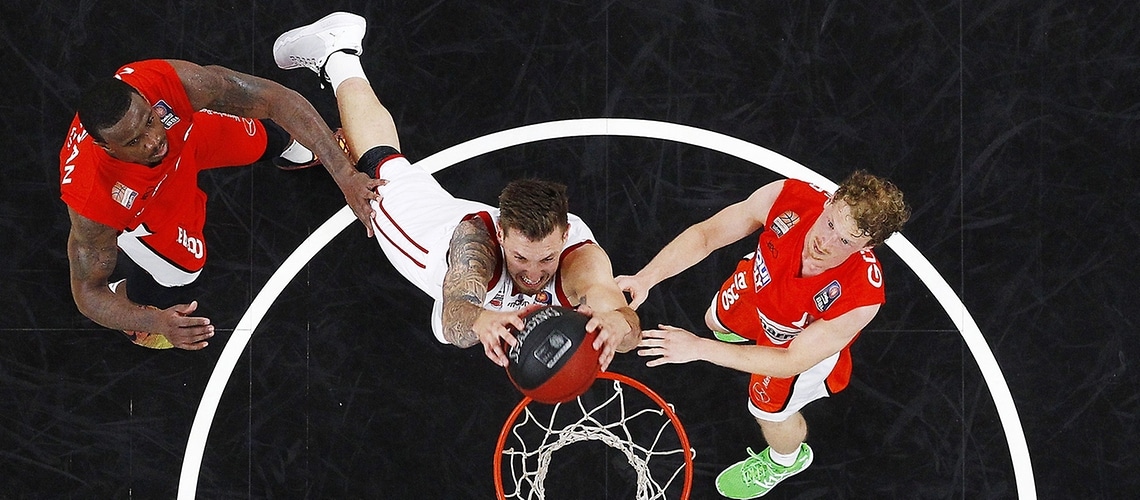 Ulm, 06-08.2016
Brose Baskets have managed to take a 2:0 lead in the final of the German championship! With eleven seconds left in overtime, MVP Brad Wanamaker scored a lay-up to give his side a 92:90 win on the road at ratiopharm Ulm. For the whole 45 minutes, the club from Swabia made life very difficult for the team of Head Coach Andrea Trinchieri in its quest to maintain its unbeaten record in the playoffs (eight wins in eight games). Brose Baskets now just need one victory to bring championship title number eight to Bamberg.
As expected, Ulm unleashed a storm in front its 5,800 fanatical supporters and surged 7:2 ahead, before the title holders struck back with very calm passing and open three-pointers. Darius Miller soon picked up where he left off in the first game of the series, chalking up an outstanding 3-point field goal percentage and draining two buckets from outside in the first quarter: one to close the gap to 5:7 and the other to put Bamberg in front for the first time (17:14). Nikos Zisis and Janis Strelnieks were not to be outdone by Miller and added crisp threes to give Bamberg a 28:21 lead at the end of the first period to the jubilation of the 400 Bamberg fans who had traveled to the game in eight buses.
When Nicolo Melli, who notched up 14 of his 16 points in the first half, opened the second quarter with the next three to give his side a double-digit lead (31:21), it was like a wake-up call for the home side. From then on, Ulm put up a tough fight against the defending champs, operating with far more aggression and putting a stop to the fast combination play of Trinchieri's players for minutes. Bamberg finished its moves hastily on a number of occasions, also because it was forced to play man-on-man a lot and drive to basket to make lay-ups. To compound matters, a number of fouls by Ulm were not called by the referees. The upshot: the visitors trailed 36:37 with two minutes to go to the break and went in 39:43 behind at half-time.
Darius Miller (9 points), Nikos Zisis (15) and Brad Wanamaker quickly helped their side recapture the lead with three buckets from beyond the arc and then Leon Radosevic (9 points without a missed shot) stretched the gap to 51:45. Yet Ulm was not to be shaken off, even though captain Wanamaker finally moved into overdrive and added ten points on his own in the third period. The lead changed hands four times and the quarter ended with the scores tied at 65:65. In the fourth quarter, Ulm snatched a slight lead, which it increased to 79:74 with two minutes left – but top scorer Brad Wanamaker (23 points) stepped up a gear, drained a three after a brilliant pass by Darius Miller and then slammed a lay-up through the hoop after Mellis won possession to tie the encounter at 79:79. Ulm added a three through Pierria Henry, but the strong Nikos Zisis followed suit – 82:82 and so overtime. Trinchieri's team started it with a 5:0 run to make the score 87:82 thanks to Melli, Zisis and a slam-dunk by Daniel Theis (6 points, 4 blocks). However, Ulm caught up again, equalizing with 29 seconds on the clock (90:90). On Bamberg's last attack, Brad Wanamaker spotted the gap in Ulm's defense and made the lay-up above the home-side's captain Per Günther (92:90). Ulm now had the final attack, but the shot from outside rebounded off the hoop and Bamberg was able to celebrate after an epic battle of nerves. It now leads 2:0 and the eighth championship is within grasp.
Andrea Trinchieri commented: "Ulm displayed an exceptional performance. It was an incredible fight and an advertisement for the sport of basketball. We started excellently, but then lost our rhythm. We didn't move the ball well in this phase; the end of the second period was a nightmare for us. We got off to a better start in the third period as well, but made mistakes again and so Ulm got back into the game. Overtime was then a suitable way to end this game. Ulm deserves our greatest respect. It played magnificently. And I expect that will also be no different on Sunday."
Brose Baskets can seal their seventh German championship title in the past ten years with a win in the third game of the series on Sunday, June 12, 2016. The tip-off in the Brose Arena is at 3 p.m. And as in game two, ratiopharm Ulm will fight for every inch on court against Trinchieri's team.