Bamberg
Brose Bamberg demands everything of ZSKA, but loses narrowly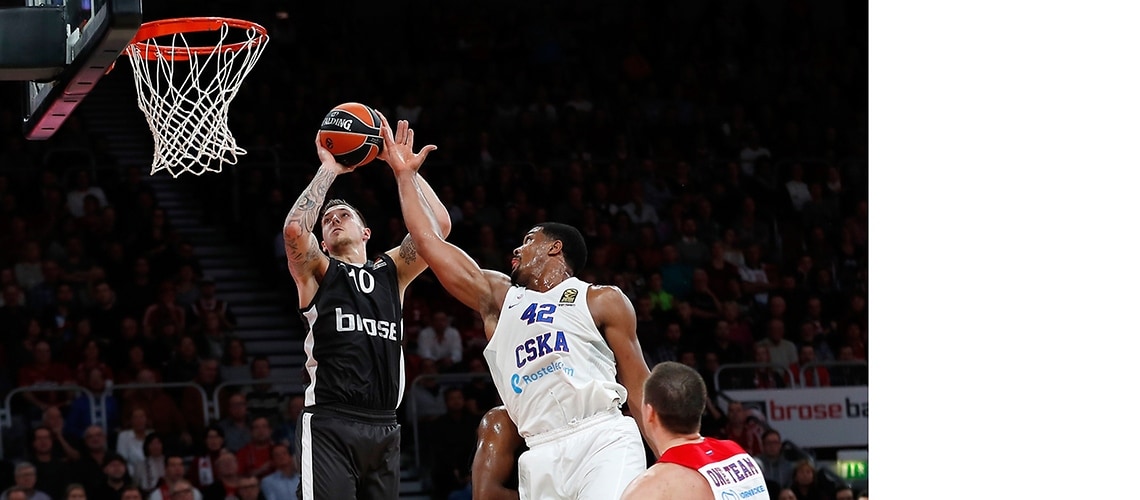 Bamberg, 12-01.2016
Yet another bitter defeat in the dying seconds: German champions Brose Bamberg lost 88:90 to reigning Euroleague champions ZSKA Moscow after a magnificent comeback after trailing by 32:51 and seeming out of contention. In particular in the final period, the army sports club from Russia won many dubious calls by the referees, whereas clear fouls against Bamberg went unpunished.
The home side managed to keep the first quarter evenly poised despite conceding six turnovers – after a run of ten points without reply by the Euroleague champions, Bamberg hit back, mainly thanks to Nicolo Melli with seven points, to end the period trailing narrowly by 16:17. In the second quarter, however, the team of Head Coach Andrea Trinchieri was much too unfocused in offense, conceding eight further turnovers thanks to ZSKA's incredibly intensive defending and so enabling the visitors to keep on scoring easy points. The teams went in with the score at 30:41 – and things did not get better for Bamberg to begin with after the break:
Moscow produced a 10:2 run to leave the German champs 32:51 behind after 23 minutes. After the timeout called by Trinchieri, Bamberg managed to instill more verve into its play, especially in offense: After failing to score in the first half, the American Darius Miller (8 points) now came into his own, adding a lay-up followed by two buckets from beyond the arc in the third period. Since Fabien Causeur (12 points) also drained his two threes of the game, the home side sliced the gap to 58:61 by the end of the third quarter. Top scorer Nicolo Melli (26 points) and Nikos Zisis responded to ZSKA points (58:65) with two buckets from downtown and the strong Daniel Theis (19 points, 9 rebounds) then tied the scores at 67:67. Both sides then traded blows, but Moscow was able to open up a gap thanks to a magical three by Milos Teodosic (31 points) and free throws after many quick fouls were called against Bamberg. With 15 seconds left on the clock, last man Teodosic stopped Bamberg's Fabien Causeur with a foul on a fast break, a misdemeanor that has been classified in the Euroleague as an unsporting foul since this season – and so Bamberg should not only have been awarded free throws, but also possession afterwards. Yet the referees "only" called a normal foul. Causeur buried both free throws (86:86), but Moscow – with possession it should not have had – responded in kind. Janis Strelnieks (11 points) equalized again with eight seconds to go. Moscow had the last attack and Daniel Theis made a magnificent block against Teodosic as the latter was making a lay-up – but that meant that, instead of overtime, the visitors still had 1.7 seconds for one attack. The German champs blundered in defense and Moscow added a free throw to run out winners.
Andrea Trinchieri commented: "We played a magnificent second half. We were able to reduce the number of turnovers from 14 in the first, terrible first half to two after the break. But we lacked experience at the end, and when you play against such strong players and a great team, you have to go beyond your limits. We came back after trailing by 19 points, we went ahead, we played our basketball. But in the end, it was once again the details we were missing. The own way to get these details is to learn. We have to accept what we lack, have to understand how high the standard is and what it takes to play at this level. Nevertheless: As a coach, I'm proud of the way we played against the Euroleague champions in the second half."
Michael Stoschek, Chairman of the Supervisory Board, noted: "I have the impression that it's not the players that decide games in the Euroleague, but the referees. After several close games we lost on the last play, we feel it's unfair that we're now bottom of the table. If only a single dubious decision had not gone against us, we could have won those games. We'll now compile and publish a DVD of the most blatant refereeing decisions against our team from the season so far. We owe that to our players, our coaching team and our fans."
Brose Bamberg now face newly promoted Science City Jena at home in the easyCredit German Basketball League on Sunday, December 4, 2016. The tip-off in the Brose Arena is at 6 p.m.