Kazan
Brose Bamberg suffers needless 58:63 defeat in Kazan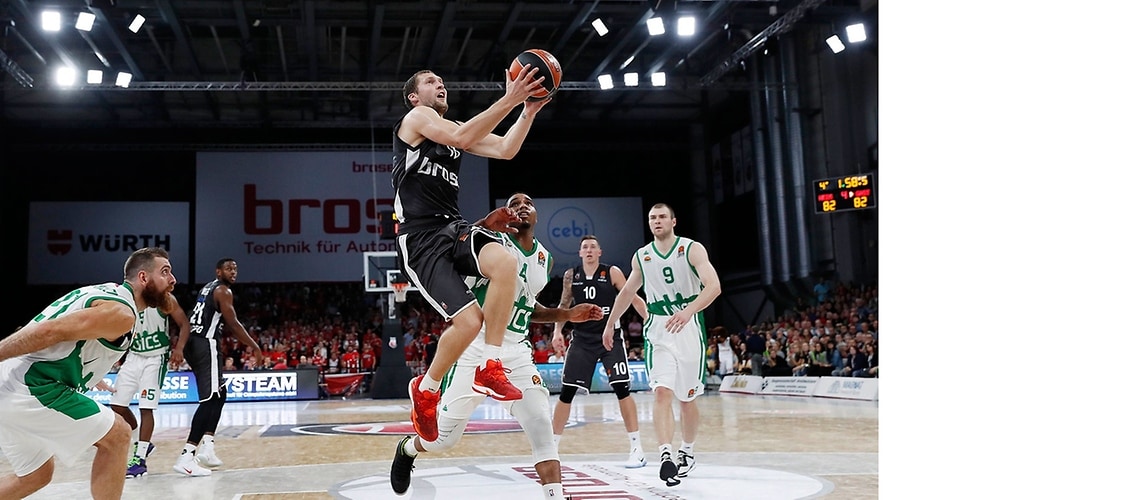 Kazan, 01-12.2017
How frustrating! After three straight wins and five victories from the last six games, Brose Bamberg was back in contention for a playoff berth in the Euroleague – only to go down to a 58:63 defeat on the road at Unics Kazan. Since Bamberg only won its home game between the two by 89:86, it also has a poorer aggregate from the two direct encounters.
The loss is especially annoying because although the German champions were not exactly brilliant in offense up to the 25th minute, they had the game fully under control thanks to outstanding defense. With the scores tied at 10:10 in the seventh minute, Bamberg moved ahead thanks to four points from Radosevic, a lay-up by Causeur and free throws from Strelnieks to lead 20:13 at the end of the period. Following two lay-ups by Daniel Theis and Jerel McNeal, Janis Strelnieks drained his side's first bucket from beyond the arc out of ten attempts to make it 27:16. Kazan's American player Keith Langford, the top scorer of the whole Euroleague with an average of 25.8 points a game, proved how dangerous he is by single-handedly adding 13 points up to the break to cut the deficit to 33:30. Darius Miller scored Bamberg's second three to make it 36:33 for his side at half-time.
The club from Upper Franconia was able to stop the home side from scoring for a whole six minutes at the start of the second half, but the team of Head Coach Andrea Trinchieri conceded many turnovers and missed many shots in offense – only top scorer Janis Strelnieks (13 points) and Darius Miller scored, as a result of which Bamberg's lead "only" increased to 42:30 after 26 minutes. The home side then struck back with six quick points to make it 42:36 and then the play that put the momentum firmly back on the side of the Russian club: Bamberg's Jerel McNeal let Latavious Williams steal possession from him at the center line and the former Bamberg player finished off with a ripping slam-dunk (42:38). Bamberg struggled to hold on to a meager one-point lead (47:46) going into the final quarter, also thanks to bucket from downtown by Lucca Staiger. However, Trinchieri's side got bogged down in solo moves in offense instead of playing team basketball and also shot poorly from the three-point line, scoring only four times off 25 attempts. Darius Miller (12 points) put Bamberg ahead again (53:51), after which it seemed that the basket was boarded up for the visitors for almost four-and-a-half minutes. Kazan built a six-point lead and managed to hold on to it.
Andrea Trinchieri commented: "Congratulations to Kazan. They were able to win the game at the end. We played very poorly the whole time, but were still twelve points ahead. We lacked focus and weren't on top of things mentally in key moments. Melli didn't feel well, but played with great fight. But you could see that his gastrointestinal illness had weakened him a lot. To sum up: We played very, very, very badly, but still could have won."
The easyCredit German Basketball League's All-star Day in being held in Bonn on Saturday. Since four Bamberg players – Darius Miller, Maodo Lo, Patrick Heckmann and Nicolo Melli – are taking part in it, Trinchieri's team does not have a game on the weekend. Bamberg's next encounter will be on the road against reigning Euroleague champions CSKA Moscow next Thursday, January 19 (tip-off: 6 p.m.).