Bamberg
Brose Baskets beat Olympiacos for the second time in the Top 16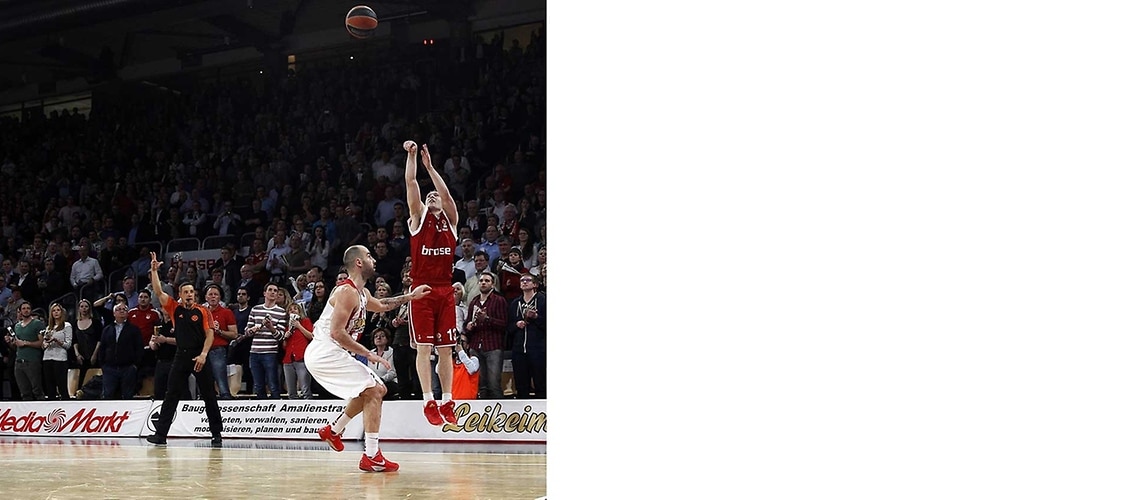 Bamberg, 03-10.2016
Brose Baskets have beaten Olympiacos Piraeus, one of Europe's best teams, for the second time in the Top 16 of the Euroleague. What was especially remarkable: the team of Head Coach Andrea Trinchieri was trailing for the whole of the second half until two buckets from beyond the arc by Nikos Zisis and Janis Strelnieks in the last 41 seconds enabled the German champions to turn a five-point deficit into a 72:71 win to the jubilation of their fans.
The duel against the 2012 and 2013 Euroleague champions developed into the anticipated intense, defensive and fiercely contested encounter, since neither team could afford to lose if it wanted to retain any hope of advancing to the Top 8. Lucca Staiger moved into the starting five in place of Darius Miller, who had a foot injury, drained the first two threes for Bamberg and then added a third after almost seven minutes to give his side a 16:12 lead. Yet Olympiacos had in particular Georgios Printezis in its ranks, who recaptured the lead for the visitors with eleven points in the first period and put the Greek side 21:19 ahead at the end of the quarter. Piraeus then opened up a 30:22 gap, but the German champs struck back in the shape of top scorer Leon Radosevic, who cleared up incredibly under the basket in defense and at the other end scored 11 points in the first half to give Bamberg a surprising 38:37 lead after the first half.
However, Brose's offensive engine initially stuttered in the second half, as Olympiacos pulled away to 53:43 before the end of the third period and seemed to have the game under control. Yet suddenly Trinchieri's players began draining shots from outside – first Nicolo Melli and then Janis Strelnieks – to reduce the deficit to just 51:56 at the end of the quarter. The gap remained constant until shortly before the end – although Bamberg did not have a good day in offense, Piraeus was not able to stretch its lead. When the Greek club extended its lead to 71:66 with just 66 to go, there was probably no one who believed Brose Baskets had a hope of winning. Then: after a brilliant pass by Daniel Theis, Nikos Zisis cut the gap to 69:71 with his first three and 41 seconds remaining. At the other end, Olympiacos failed to score off three attempts, Brad Wanamaker dribbled forward, then played a gem of a pass across court to Janis Strelnieks – and the Latvian player drained the bucket from beyond the arc to give his side a 72:71 lead with 4.6 seconds on the clock. A sensational victory! The German champs have overtaken the Greek side in the table and can still dream of a place in the Top 8.
Andrea Trinchieri commented: "I'm happy for my players. I'm happy for our fans. They were magnificent today. We managed to come back against a strong opponent. The last move went exactly as planned: the ball was meant to go to Janis. We've learned from the last games. We're not out of hell yet, but we're still running. We lost in Kaunas in the final second. We lost in Madrid in the final second. Today we can celebrate a great win against a team that has played four Final Fours in the last five years and won the title twice. It was very tough, since we were behind the whole second half. They played extremely physically. We never gave up and we saved the best for last. We've written history."