Barcelona
Brose Baskets without a chance at FC Barcelona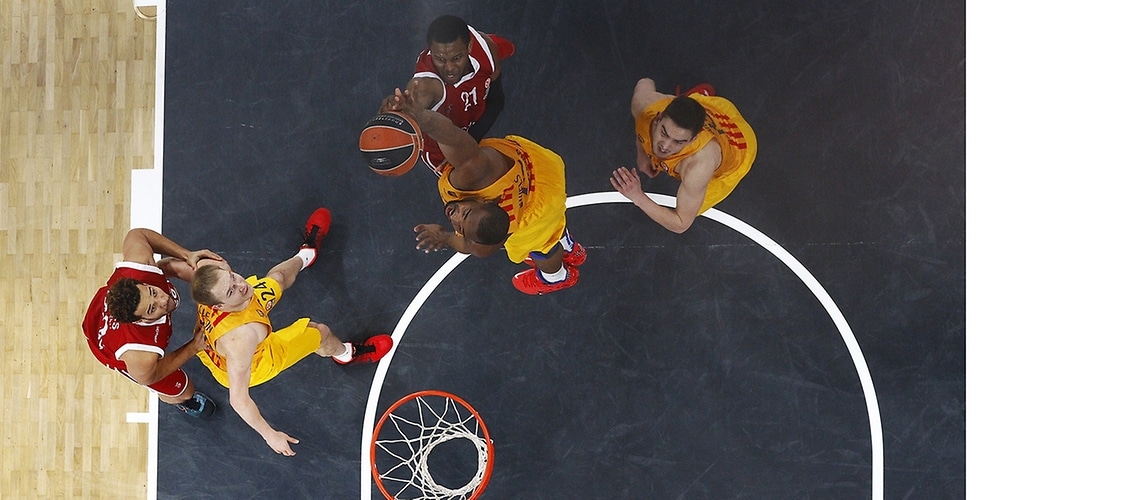 Barcelona , 03-31.2016
The three straight home wins in the Euroleague Top 16 kindled Brose Baskets' hopes of reaching the Euroleague playoffs, but they were in for a bitter disappointment at the Palau Blaugrana on Thursday evening. Tied on points with FC Barcelona going into the game, the team of Head Coach Andrea Trinchieri suffered a painful 57:75 defeat on the road and now no longer has it in its own hands to qualify for the playoffs.
Yet Bamberg got off to a strong start, defended well against the first attacks by the club from Catalonia and went 5:0 ahead thanks to a bucket from beyond the arc and a lay-up by Brad Wanamaker. However, after Leon Radosevic made it 7:3, the visitors were not able to hold on to their lead. With sensationally tough defending, Barcelona prevented Bamberg from taking easy shots and also snapped up five offensive rebounds, scoring off them at the second attempt. "Barca" turned the game around and initially pulled away to 18:9. Brad Wanamaker reduced the deficit to 12:18 at the end of the period to notch up ten of Brose Baskets' first twelve points. In the second quarter, Trinchieri's team managed to shake off the pressure a little and closed the gap to 19:22 through lay-ups by Nikos Zisis and Darius Miller and a three by Lucca Staiger. Barcelona struck back clinically with a bucket from outside, a lay-up and five free throws to make it 32:19. Up to half-time, the home side forced its opponents to concede seven turnovers, as both teams went in with the score at 43:23. The free throw ratio was especially annoying for Bamberg: FSB was awarded sixteen up to the break and scored off 13 of them, yet the referees often failed to penalize Barcelona's extremely tough defending, despite hefty physical contact, with the result that Bamberg was only awarded two up to half-time.
After the break, Brose Baskets were not able to reduce the gap by any decisive margin and lacked the resources on the evening to unlock the home side's defense. In particular, Nicolo Melli, Nikos Zisis and Leon Radosevic did not have any luck with their shots. Top scorer Brad Wanamaker (16 points) reduced Barcelona's lead, which was 24 points at one stage, to below 20, but the home side's victory was never in doubt.
Going into the final match day in the Euroleague Top 16, it is now clear that Brose Baskets no longer have it in their own hands to reach the playoffs. With six wins and seven losses to their name, they have to win at home next Thursday against the already qualified Laboral Kuxta Vitoria to pull off a basketball miracle; at the same time, however, Zalgiris Kaunas must defeat Barcelona and Olympiacos has to beat CSKA Moscow. In addition, Real Madrid has to win both its remaining games. Only then will Bamberg capture fourth place and advance to the playoffs thanks to their better standing compared the four teams tied in the group table.
Andrea Trinchieri commented: "Congratulations to FC Barcelona on a deserved victory. I have a bad taste in my mouth and I have to stand by my players. I had hoped we would play better basketball, but that wasn't possible under the circumstances. We played against a very, very strong team. It was an extremely physical game. We didn't know how to handle that. But I'm proud of my team and the whole organization. Despite the defeat, my players should leave the arena with their heads held high."
The next challenge in the German Basketball League faces Brose Baskets at the weekend: they fly via Frankfurt to Bonn, where they meet Telekom Baskets Bonn on Sunday, April 3, 2016. The game tips off at 5 p.m.