Sulingen
Dinkel/Kohl forced to withdraw in Sulingen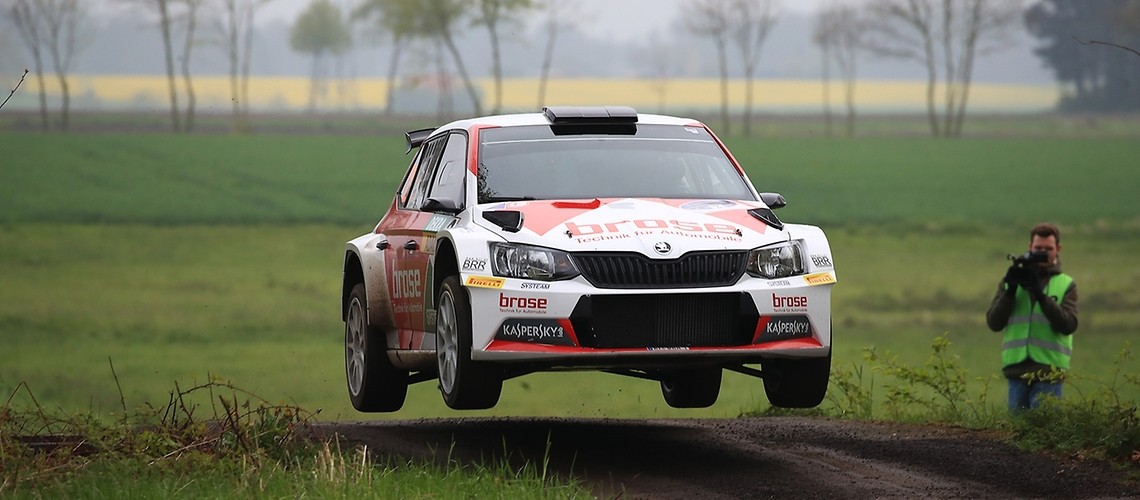 Sulingen, 05-06.2017
87 teams lined up for the rally "Rund um die Sulingen Bärenklaue", around 50 kilometers south of Bremen, on May 5 and 6. Dominik Dinkel and Christina Kohl were also among the starters in the third race of the season in the German Rally Championship (DRM), in which a total distance of 159 kilometers had to be driven in best time, 14 percent of which was on gravel.
The Friday ended with a clear one-two for Skoda: The reigning champions Fabian Kreim held an 11.2-second lead over Dominik Dinkel and his co-pilot Christina.
Early on the Saturday, the front left wheel of the car driven by leaders Kreim/Christian became wedged in the foundation of a manure storage silo after a braking mistake and they were forced to retire. Dinkel/Kohl then embarked as leaders on the next trial and clocked the second-fastest time right away.
On the next trial, however, Dinkel hit a root on a narrow gravel section when turning into a fast right-hand bend, with the result that the R5 lost its balance. The car was tilted onto its left-hand wheels, with its underbody visible, and even threatened to turn over completely for a moment. Yet Dinkel responded with lightning speed and counter-steered, thanks to which the Skoda landed back on all four wheels. However, the contact with the root had ripped the fixing bolt of the bottom right wishbone out of its anchorage, forcing the Brose team to withdraw.
That meant the excitement in the Sulingen Rally was also over. The fans were not able to enjoy a nail-biting finish where every second counted, such as in the last races. Minutes separated the three teams on the rostrum.
However, everyone will be at the start again at the Saxony Rally on May 26 and 27. "We know there's a long time left in the season and are looking ahead with a positive frame of mind. We were in contention at least year's Saxony Rally in the S2000 before an engine problem stopped us near the end. Our R5 achieves a far higher top speed than the S2000, so we should definitely be competitive at this fast rally," said Dinkel afterwards.