Nuremberg
Engelhart captures a place on the rostrum in the heart of Nuremberg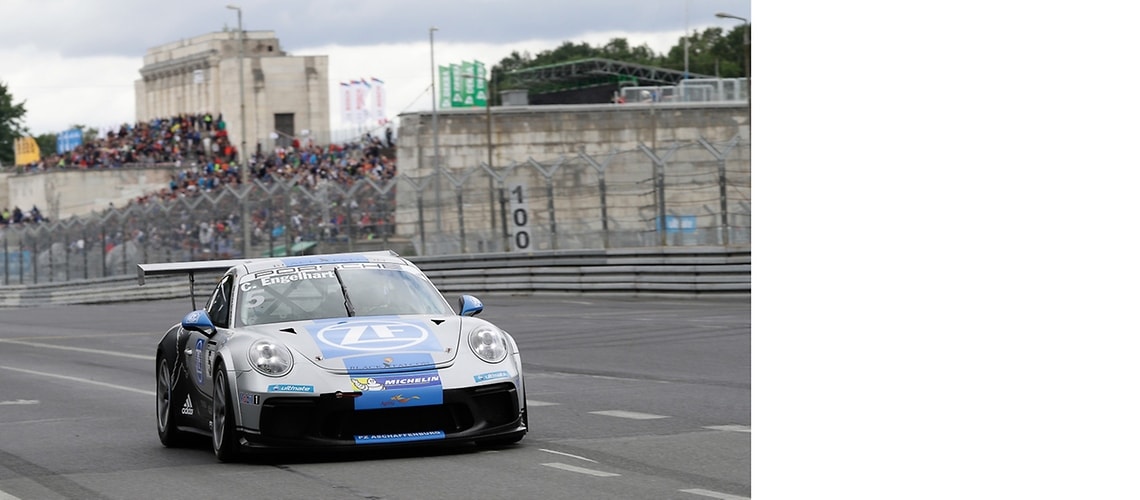 Nuremberg, 07-02.2017
Christian Engelhart produces yet another strong performance in the Porsche 911 GT3 Cup from the Black Falcon team in the Porsche Carrera Cup Germany. The Bavarian pilot gave an impressive display on his home turf on the street circuit in Nuremberg, capturing a place on the rostrum and impressing especially with powerful starts.
"Third spot and so a place on the rostrum at the Norisring is a pretty fine haul," is how Christian sums up his weekend in Nuremberg. In the tight races in the Porsche Carrera Cup, the Bavarian driver again capitalized on his experience and refused to be disconcerted despite a few tricky moments on the track.
"At the Norisring, you have to be more than 100 percent focused if possible when the light turns green. On this narrow course, which is also the shortest in the entire season, a pilot needs a panoramic view so as to be able to see precisely what his opponents around him are up to. I think I did a good a job at that this weekend."
Christian was able to quickly move up three places in both the first and second races – an almost incredible achievement given how evenly matched the drivers are and the particularly narrow circuit.
"On top of that, you really don't have a chance to overtake in Nuremberg and the top ten are separated by tenths or hundredths of a second. That means you can no longer drive at your speed as soon as you have a competitor in front of you on the tight track. That makes itself felt in qualifying in particular."
Despite only being a guest driver, Christian is seventh in the championship, although he has only lined up in half of the races due to overlaps with other events.
"I'm naturally delighted that I'm always able to compete with the best with my Black Falcon team, which is also making its debut in the Carrera Cup this season. I believe we're underscoring what a strong outfit we are and can pay back the trust of our partners and sponsors in the very first year for both of us. That's very important for me."