Oschersleben
Engelhart: Four races, two places on the rostrum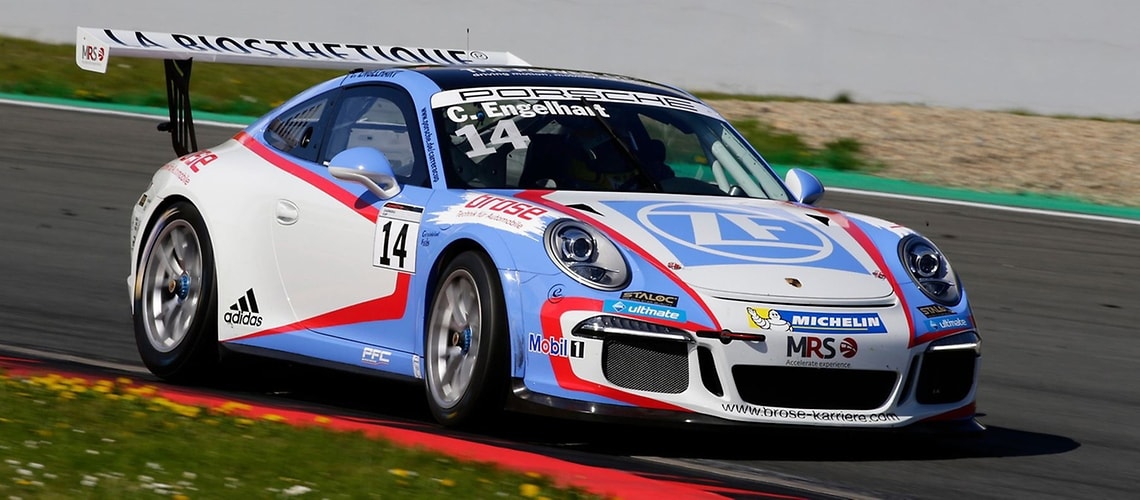 Oschersleben, 04-17.2016
Christian Engelhart had a jam-packed schedule at Oschersleben. From Friday on, the pilot from Kösching focused intensively on his big opening weekend of the motor sport season. Four races were on the agenda and he finished on the rostrum in two of them.
A workload like that is a real challenge – and that is something Christian Engelhart likes. He lined up in Oschersleben near Magdeburg in the ADAC GT Masters and in the Porsche Carrera Cup Germany. Two different cars – yet he was in close contention for a place on the podium twice.
He did not manage to get among the top three on the Saturday in the ADAC GT Masters or Porsche Carrera Cup. However, the Bavarian driver stepped up a gear on the Sunday. First of all, he and his teammate celebrated a prestigious win in a GT racing series with one of the best line-ups in Europe and then literally "jumped" from one cockpit into the next.
Inspired by his victory in the preceding race, Christian followed it up by crossing the line in second in the Porsche Carrera Cup. As a result, he amassed a good many points and is now second overall in the ADAC GT Masters together with teammate Rolf Ineichen. In the Carrera Cup, Christian is in fourth, just 13 points behind the leader, after the first weekend of racing.
Christian's verdict: "That was really a very intense weekend. However, our win in the ADAC GT Masters, which we hadn't expected by any stretch of the imagination, meant I achieved everything I had set out to do. That's a very good start to the season. Now we have to keep on working in a focused way and work just as hard for our next success."
Next races
April 29 - May 1, 2016 - ADAC GT Masters - Sachsenring (D)
May 6 - 8, 2016 - Porsche Carrera Cup - Hockenheim (D)
May 13 - 15, 2016 - Porsche Mobil 1 Supercup - Barcelona (E)