Vitoria-Gasteiz
Euroleague: Brose Bamberg squanders 15-point lead in Vitoria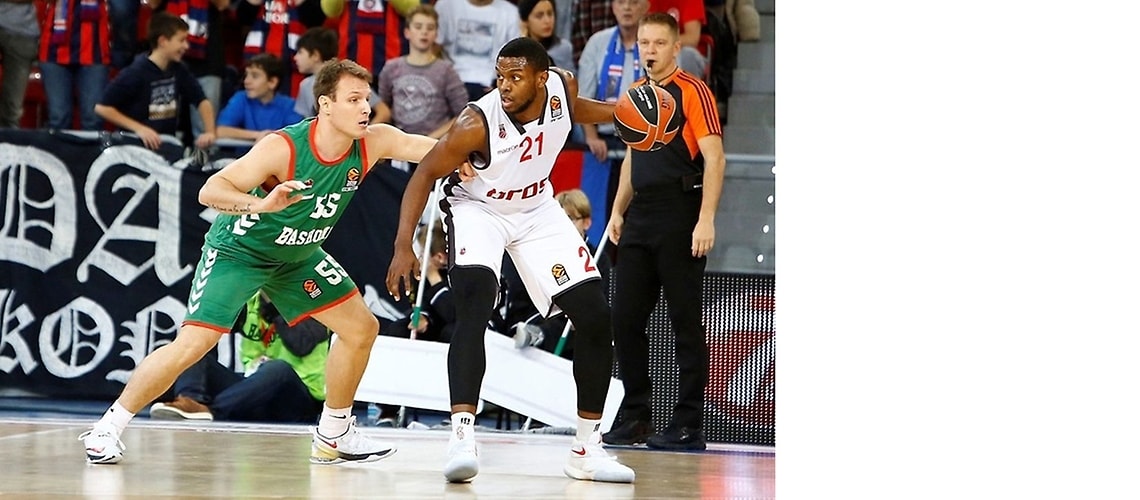 Vitoria-Gasteiz, 11-17.2016
This defeat is hard to swallow! For three periods, German champions Brose Bamberg played an almost perfect Euroleague game against last year's Final Four qualifier Baskonia Vitoria. The team of Head Coach Andrea Trinchieri was 15 points ahead at half-time and still ten in front in the final period. However, an abysmal 4:20 run in the final seven minutes robbed it of its first win on the road in this season's Euroleague. The 74:81 loss in Vitoria means that Bamberg has now slipped down to 14th place in the table.
Trinchieri's players had put the defeat against Belgrade 48 hours before behind them remarkably well. Bamberg played as if unleashed from the outset and posed problems for their top-class opponents from Spain, especially with good defending. After the Basque club went 15:13 in front, it was in particular Darius Miller with two buckets from beyond the arc and a lay-up who helped the German champs produce a 10:1 run and so decide the first period in its favor by 23:16. Since Bamberg made its presence strongly felt, forcing the home side to concede ten turnovers up to the break, it also stretched the gap further. The international Maodo Lo produced his best Euroleague game to date, draining two threes up to half-time and even getting into double digits along with top scorer Miller (16 points) and Nicolo Melli (12). Janis Strelnieks brought a perfect half to a close with a bucket from outside to make it 47:32 at the break.
A quick six points by Vitoria at the start of the second half did not disconcert Bamberg. With eight out of his 11 points, Janis Strelnieks helped his side hold on to its 15-point lead until midway through the third period (60:45). However, Vitoria gained the upper hand with far more intense defending. Bamberg then increasingly conceded turnovers and Vitoria closed the gap to five with a run of 10 points without reply. Nikos Zisis and Patrick Heckmann struck back to make it 68:58 with eight minutes to go. However, Trinchieri's now lacked concentration and coolness against a Basque side that went from strength to strength, with the result that Baskonia tied the encounter at 70:70. Instead of the team basketball of the first three periods, the visitors tried their luck with solo efforts, but they were mostly thwarted by Vitoria's defense. Daniel Theis missed four out of four free throws in the final period, while Maodo Lo (15 points) was not able to crown his strong game with a three with his team trailing 74:77 with 10 seconds to go because he foot touched the side line – small, but crucial mistakes against a top team like Baskonia.
Andrea Trinchieri commented: "We turned in a great performance 48 hours after the game against Belgrade. We played excellently for 35 minutes. We did what we had to do to survive against such a good team in such an arena. I was just that our energy deserted us at the end. We need two more centers, we had to change our rotation. I stand by my players. I believe that other teams that come up against us will have a difficult time. Because we'll catch up and make up for all we're missing now."
Brose Bamberg now face a game on the road in the German league at Alba Berlin on Sunday, November 20, 2016. The tip-off in the Mercedes Benz Arena is at 3:30 p.m.