Erlangen
HC Erlangen captures 15th home win in a row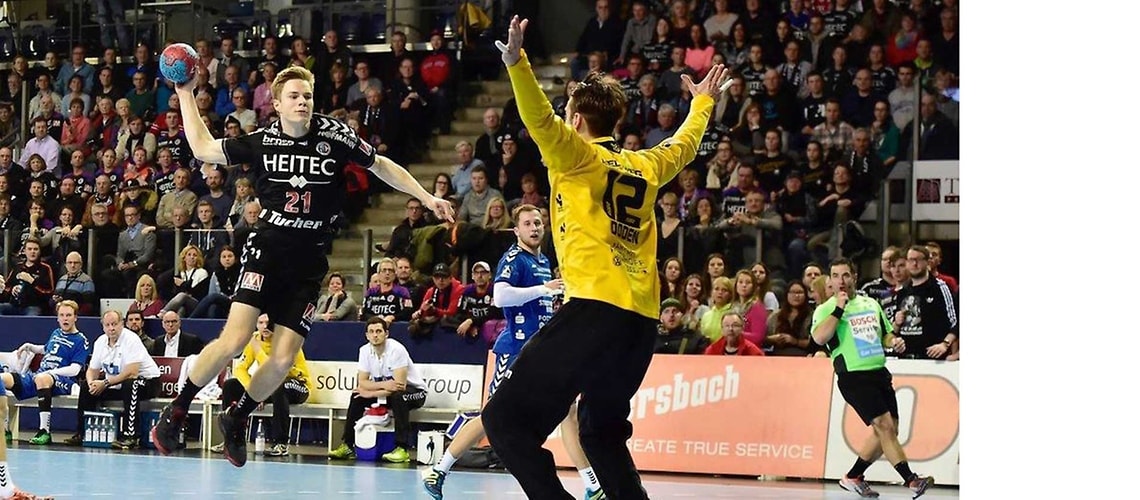 Erlangen, 03-13.2016
HC Erlangen had declared the home game against TV Emsdetten as its first "CLUB DAY" and invited all Bavarian clubs to celebrate handball in Bavaria with the German league side from Franconia. And the clubs from the Free State took up that call. Well over 4,000 fans produced a fitting ambiance for the game against the visitors from the Münsterland region. The clear 33:24 victory was an emphatic warning to the other teams in the league.
The HCE started with its customary calm and dictated events right from the first minute. Lead by Martin Stranovsky, who turned in yet another very strong performance and ended up as Erlangen's top scorer with eleven goals, the league leaders began ticking over more and more. The HCE already led by three goals midway through the first half. The visitors from Emsdetten put up a passionate and fierce fight against HC Erlangen, but never posed any real danger to the home side. Five goals separated the two sides when they went in at half-time.
After the break, there was no change in the run of play between the top-of-the-table club from Erlangen and the ninth-placed side in the Second German Handball League. The home side never let TVE narrow the gap to less than four goals and set the Bavarian crowd alight, especially the many young handball fans among it. When the entire arena got to its feet with five minutes remaining, the atmosphere was at boiling point. HC Erlangen won its 15th home game in succession and is now unbeaten in the Nürnberger Versicherung Arena for one year. In the next two weeks, the team of Head Coach Robert Andersson face three tough games on the road in Wilhelmshaven, Coburg and Saarlouis.
Robert Andersson commented: "I'm once more very satisfied with my team today. We again did a lot of things right and captured our next home win in front of a great crowd."