Bamberg
Project Junior Franken presented to the Premier Division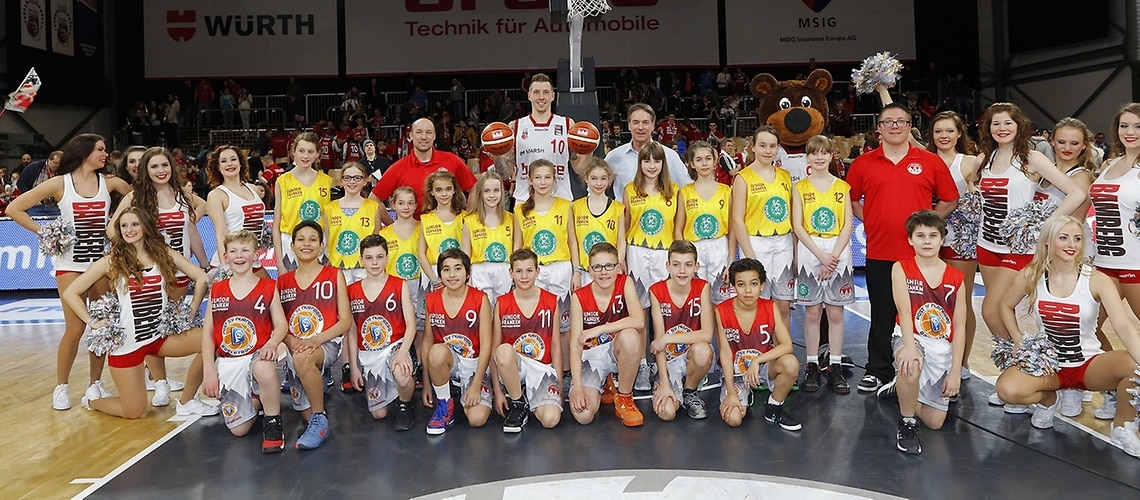 Bamberg, 03-20.2016
During the half-time break in the Brose Baskets vs. Ludwigsburg game, two teams from the JUNIOR FRANKEN project were introduced to the many fans: the Under 12 team from Nuremberg played against an SC Kemmern Select. The result of this short game didn't really matter – but it showed that kids' basketball in Franconia is thriving. There are 51 teams currently involved in this unique project founded by Michael Stoschek in 2012.
The alliance of the Frankish basketball clubs Brose Baskets, Medi Bayreuth, s.Oliver Baskets Würzburg and Post SV Nürnberg aim to secure a sustainable and solid future for kids' and youth basketball in the region. However, this can only be achieved with efficient youth work, both in sports and in the social sphere.
The patron of the project is national team player and Brose Baskets center Daniel Theis. He posed for a photo at the break, gave lots of autographs and promised Michael Stoschek, Project Manager Martin Will and the kids that he'd come by as soon as he could.