Madrid
Real Madrid hammers Brose Bamberg 72:95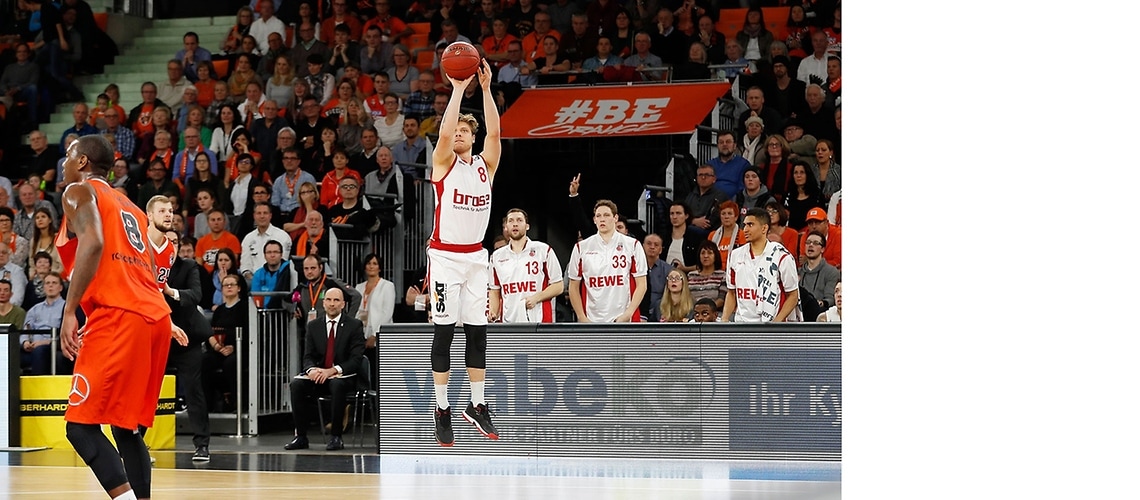 Madrid, 12-20.2016
This is one game that the German champions will want to forget! Brose Bamberg lost 72:95 to the 2015 Euroleague champions, Real Madrid, who simply steamrollered the guests for 40 minutes.
Coach Andrea Trinchieri had to do without Elias Harris (bone edema) in the Barclaycard Arena, plus the top scorer of the last two games, Fabien Causeur, who called off at the last minute because of a stomach flu virus. Surprisingly, Trinchieri included playmaker talent Aleksej Nikolic in his starting lineup – but it all went horribly wrong for the German champions when the game started. Not one of the first six Bamberg attacks resulted in points, two turnovers, four missed shots... and Real Madrid had 11 points on the scoreboard after only three minutes. Even Trinchieris' first timeout didn't help the situation much, because the Spanish team played so strongly in defense that Bamberg was restricted to very difficult attempts and could hardly get through to the basket. 9:24 after the first quarter, 25:47 at half time... the 8,200 spectators saw a very one-sided game.
Real continued to dominate after the break, the Trinchieri boys could do nothing to stem the attacking Spanish tide. The Madrileños increased their lead to 72:40 and even 76:40 at the beginning of the final quarter. The last eight minutes saw the hosts go down a gear or two and the German champions were able to make the final result look a little better, mostly thanks to leading scorer Lucca Staiger. He netted six of eight distance attempts – and those 18 points meant a new career record for the 28-year-old. Daniel Theis (15 points) and Maodo Lo (13 points) also scored double-digit points. The only good thing about this heavy defeat for Bamberg is that it quickly became obvious what was going to happen, so Andrea Trinchieri only allowed his best players – Nicolo Melli, Nikos Zisis, Janis Strelnieks and Darius Miller – to play for 13 to 19 minutes, so they should be fitter for the home game tomorrow against Olympiakos Piraeus.
Head Coach Andrea Trinchieri: "They really flattened us – that game was the low point of our Euroleague season. Real Madrid was great, but we already knew how good they are – and we just didn't perform the way we can... zero energy, zilch drive. We can only do one thing now – get back to the training court, work on our game and beat our next opponents on Thursday."
Bamberg have another hard game on Thursday, 22 December 2016, when Trinchieri's team take on Olympiakos Piräus in the Brose Arena. The Greeks were Euroleague champions in 2013 and 2014.